What Kofi Kingston REALLY Thinks Of Being Squashed By Brock Lesnar In 2019
Kofi Kingston speaks on his one-sided WWE Title loss to Brock Lesnar in 2019.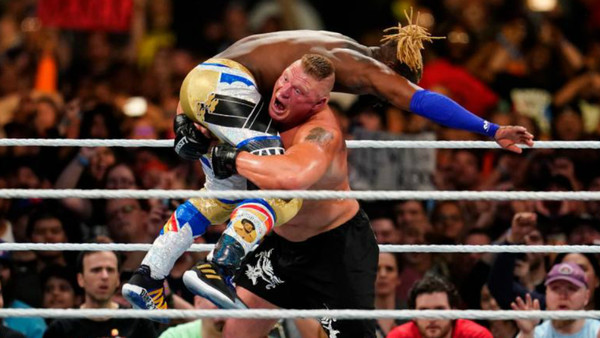 Kofi Kingston fell victim to a controversial WWE booking decision on 4 October 2019, dropping the WWE Championship he had fought so hard to win in a seven-second squash to Brock Lesnar to mark SmackDown's maiden Friday night voyage on FOX.
It was seen as disheartening by Kingston fans, who had witnessed The New Day man's natural, organic rise to become WWE Champion in an emotional WrestleMania 35 climax. Lesnar, meanwhile, was a controversial choice to dethrone Kingston anyway, given his divisive image as a part-timer.
Nonetheless, it happened - and Kingston doesn't well on it.
Interviewed by Steve Fall for NBC's Ten Count, Kofi said he didn't know why WWE went down the squash route for him vs. Lesnar. He doesn't hold on to it, as doing so wouldn't serve a purpose, nor does he let it make him feel bad (h/t WrestlingNews.co):-
"I have no idea. I don't really dwell on the why. There are a lot of things in the industry that you look at sometimes and go woah, 'why did that happen?' You just move on, and the wheel keeps on turning. For me to dwell on what happened in that match with Brock Lesnar doesn't serve me any purpose. It's not going to make me better or change what happened or do anything besides make me feel bad, and I'm not going to let it do that. I have a lot more career left to handle. I think it's a scenario where it's a rare and unique opportunity to be on this roster. As far as my run, being WWE Champion, I got to go six months almost to the day so that is a very long reign."
And despite how it ended, Kingston enjoyed his half-year run atop WWE:-
"To be able to button that up was great. I enjoyed my title run. I enjoyed every single moment of it because I know how rare it is to be in that championship role. You embrace it."
Lesnar ended up losing the WWE Championship to Drew McIntyre at WrestleMania 36. More recently, he put Roman Reigns over at 'Mania 38, with his defeat allowing SmackDown's kingpin to effectively unify the WWE and Universal Titles as Undisputed WWE Universal Champion.
Kingston, meanwhile, remains a popular babyface force alongside Xavier Woods and the injured Big E in The New Day.