What Randy Orton Was Told About His WWE SummerSlam 2016 Finish With Brock Lesnar
It was real alright...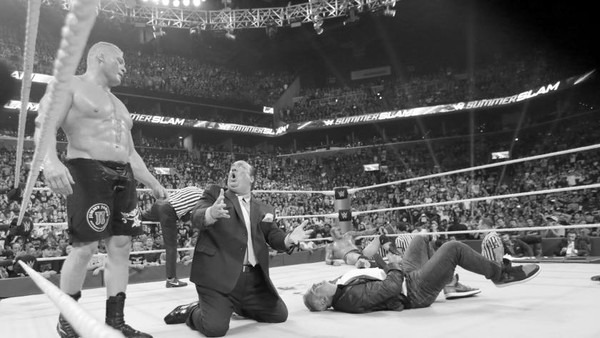 Randy Orton vs. Brock Lesnar finished in gruesome fashion at WWE SummerSlam 2016. Orton was left bloodied from a series of unprotected elbow strikes, the referee stopped the match, and The Viper required 10 staples to close the head wound. It was a jarring conclusion that blurred the line between real and "fake," and one designed to create the impression that Brock had gone off-script.
It has since been reported that the finish was planned, but Orton reportedly knew nothing about it until he arrived at the arena. Having prepared for a standard main event, Orton was allegedly told that the match's new purpose was to make Brock look dominant, and that there'd be no significant back-and-forth action.
The finish, Orton was told, would leave him broken down and bleeding on the mat. Lesnar allegedly knew how to graze Orton with an elbow strike that would open a cut on Randy's head without doing significant damage, and Orton agreed. Instead of "grazing" Orton, however, Lesnar pummelled his skull with a series of stiff strikes, and the resulting wound was much bigger (and bloodier) than planned.
Orton played his role by staying down and acting knocked-out, and if the officials looked concerned, it's because they were. There was no way Orton could feasibly continue with such a large wound, and the match was stopped: a planned finish, but not to this extent.
Create Content and Get Paid
---