When Did Hit Row Know About WWE Return?
Top Dolla explains how and when Hit Row's WWE return came about.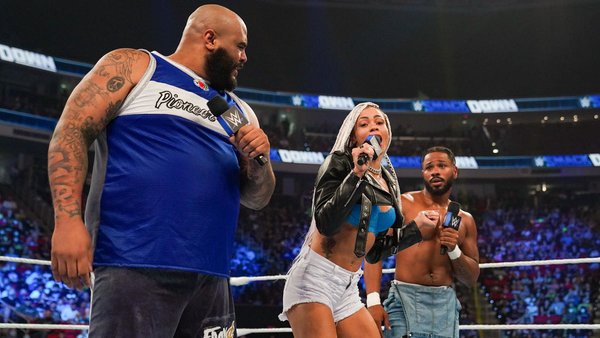 With Hit Row making their surprising WWE return on this past Friday's edition of SmackDown, there now comes some new information on when the trio first found out that the door was fully open for a return to the company.
Speaking on Busted Open Radio (via Fightful) the day after said return, Hit Row's Top Dolla explained how Triple H reached out a week and a half prior to this SmackDown appearance.
"When he gets the reigns and is, like, 'I want to bring my guys back', we were one of the top priorities to get back because he knew what we could bring to the table. About a week and a half ago, he hit me up and was, like, 'How are the rest of the guys?' 'We're good'. None of us wasted time this whole time. I was on tour, I did shows in New Orleans and LA for music, wrestled at GCW, MCW, ACW. [B-Fab] lives in Columbia, so she was doing her thing down there, modelling. [Ashante Adonis] was doing acting stuff in Atlanta and LA, model stuff. We never stopped training and being ready. [Triple H] was, like, 'How fast can I act and get you guys here?' This was on Wednesday of last week. 'If you really want us, we can be there tomorrow'. We ended up having a Zoom call with him, the three of us, and planned out what would happen the next couple of days. This week, we got physicals and contracts."
During this chat, Top Dolla also revealed how he remained in constant contact with Triple H during Hit Row's brief run on SmackDown and subsequently throughout the group's time away from WWE. The powerhouse of Hit Row likewise mentioned how he would regularly send the Game clips of him and Adonis' work in places like GCW and ACW.
As for how the lay of the WWE land was put to Dolla ahead of the trio's return to the fold, Triple H promised them a completely clean slate and stated how he didn't know what happened with the group's previous time on the SmackDown brand. Of course, that run was over before it ever really got going, with B-Fab quickly released by WWE, before Top Dolla, Ashante Adonis and Swerve Scott were similarly let go a matter of weeks later.
Since then, Swerve Scott has obviously found a home for himself in AEW under his Swerve Strickland moniker. There, Swerve is one half of the AEW Tag Team Champions with Keith Lee.