Which Hollywood Actor Appeared In WWE Raw's ThunderDome "Crowd"?
Someone special was cheering on Drew McIntyre...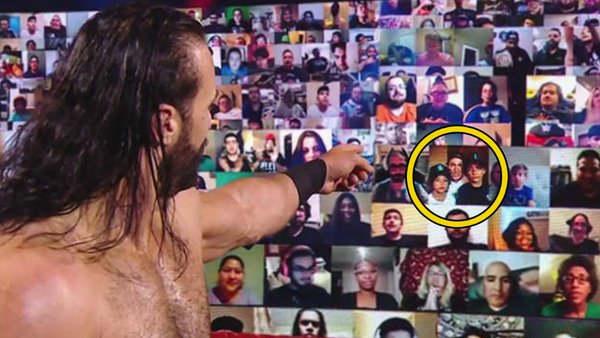 WWE love a bit of celebrity crossover.
The company has personally taken it upon themselves to showcase legends and current talent on those ThunderDome LED screens as of late, but last night's Raw episode had a special guest from outside the company walls.
None other than Matthew McConaughey showed up with his kids on one of the screens to cheer on Drew McIntyre after his win over The Miz.
Without missing a beat, WWE had announcer Tom Phillips gush over the actor's appearance and zoomed in on his panel. In-ring, McIntyre pointed towards McConaughey and his children like he was pointing at that massive, neon WrestleMania sign post-Royal Rumble win and grinned from ear-to-ear.
It's worth noting that McConaughey has a new book (called 'Greenlights') coming out, so this was probably a promotional appearance more than anything. Celebs don't just drop in on the ThunderDome, y'know.
Still, this is probably something fans can expect to see more of the longer WWE are forced to work shows without real live crowds. So long as they don't try to revert back to some 'Guest Host' nonsense, and try it via Zoom, then that's fine.