Who The Undertaker REALLY Wanted To Beat His WWE WrestleMania Streak
Brock Lesnar 'didn't need' to beat his WrestleMania streak; here's who The Undertaker wishes did.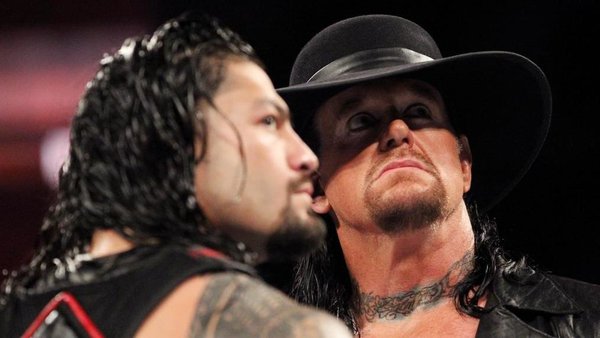 The Undertaker has told Bleacher Report that Roman Reigns, not Brock Lesnar, would've been a much better fit to end his iconic WrestleMania winning streak.
WWE went with Lesnar back at 'Mania XXX in 2014, but 'Taker wishes Reigns had "been first"; Roman did go on to beat the legend at 'Mania 33 in 2017. However, in retrospect, the 'Deadman' thinks he and Vince McMahon should've shown a little more patience.
Someone like Reigns would've been perfect for that role, 'Taker says.
Looking back, who knows. WWE fans booed the living sh*t out of Roman at the 2015 Royal Rumble, so it was clear that people rejected him as McMahon's chosen one. There might've been a riot had he been handpicked to defeat The Undertaker in New Orleans.
'Taker also told BR that he's not so sure Lesnar "needed that win". This is clearly a minor regret for the man, but hindsight is 20/20. Besides, again, would Reigns have really been a satisfying conquerer during his Shield days?
Roman and The Undertaker struck up a good rapport behind the scenes before the latter retired from the ring, so maybe 'Taker wishes he'd been able to give his friend an early leg up.
Create Content and Get Paid
---