Who Was Supposed To Be WWE's First Women's Tag-Team Champions?
Spoiler: Bayley and Sasha Banks weren't even considered.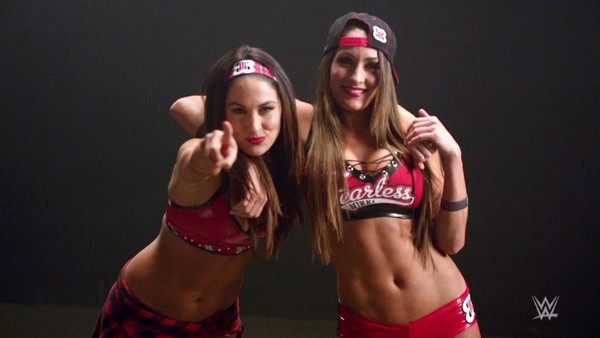 Those WWE Women's Tag-Team Titles are fine around the waists of Asuka and Kairi Sane, but there's no doubt the promotion barely registers interest in the belts. They haven't felt 'big time' or all that meaningful since Sasha Banks and Bayley won them back at Elimination Chamber 2019.
That wasn't the original plan.
Brie Bella told ESPN's No Holds Barred radio show that she and sister Nikki were originally going to be the first co-holders of the brand spanking new titles. That only changed when Nikki was forced from the ring due to ongoing neck injuries; unable to sit around and wait for (possible) recovery, WWE decided to go in a different direction.
Enter Sasha and Bayley.
Their 'frenemies' storyline was considered perfect for the new titles. That wasn't some Vince McMahon-led master plan though - he had Nikki and Brie earmarked for the things long before anyone else.
It's probably for the best that (soon-to-be Hall Of Fame inductees) The Bella Twins didn't get their mitts on the titles first. Whether fair or not, they've always been considered a hangover from the Diva days, not workhorses like Banks and Bayley.