Why Dominik Mysterio Doesn't Want To Wrestle Rey
The internet might want Dominik and Rey Mysterio to wrestle in WWE, but here's the catch...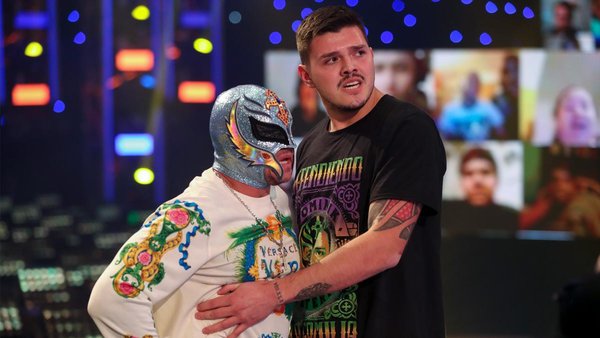 Dominik Mysterio has little interest in wrestling his father, Rey, in WWE.
The former SmackDown Tag Team Champion said as much in a new interview with Sportskeeda, citing his belief that they have plenty of ground left to cover as a duo as the reason:-
"Me personally, I would not like to get in the ring with my dad, just because I think there's so much more that we can do still."
Though still a unit, Rey and Dominik haven't been on the same page for several months now, with constant miscommunications and other errors costing them multiple singles and tag victories. The Mysterios have also clashed whenever Rey has attempted to be his son's guiding hand through this difficult period, which apparently reflects their real-life situation.
Per Dominik, their onscreen arguments are much like those the cameras don't see:-
"But, what you see on TV is how we argue, how we fight, and how we bump heads, and that's 100% us. He literally nitpicks freaking everything. Sometimes, it gets to the point where I'm like, no cameras are on us, and I'm just like, "' get it pops, I see what I'm doing here,' It's frustrating, but at the same time, I understand where he's coming from, as a dad trying to help me out."
The Mysterios haven't won a straight-up singles or two-on-two tag match since SmackDown's 13 August episode, on which they defeated The Dirty Dawgs. Their run of rotten luck goes back to their SmackDown Tag Team Title loss to The Usos at Money in the Bank 2021 the month prior.
While there's every chance he's working here, at face value, Dominik's words appear to show the 24-year-old has no desire to follow the current storyline to its predicted conclusion.
Create Content and Get Paid
---