Why Ric Flair Felt He Couldn't Turn Down WWE's 'Uncomfortable' Lacey Evans Angle
Ric Flair wanted to turn down WWE's angle with Lacey Evans, but couldn't. Here's why.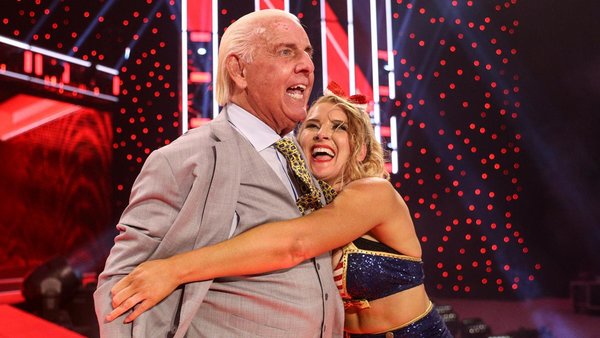 Ric Flair didn't feel like he was in a position to say no to WWE's abolished love interest angle with Lacey Evans earlier this year.
The 'Nature Boy' told Ariel Helwani's MMA Show that he's never really been one to turn down much that promoters pitch to him, and he wasn't about to start with Vince McMahon in 2021. So, out of respect to Vince's booking, Ric went against his own judgement and tried to make the idea work.
It sucked, got cut short due to Lacey's pregnancy anyway and wasn't something Charlotte Flair enjoyed either. Ric knew that, but he could see that McMahon "had stuff going on" that was more important - the legend couldn't grab a word with the boss behind the scenes, and that's why he decided to just go along for the ride.
Flair described his thoughts on the storyline by adding, "I wasn't comfortable". Charlotte's own reservations about it made things worse for Ric. It must've been pretty embarrassing to go through with the angle when almost everybody involved hated it.
Ric's unwillingness to let Vince down was the reason he gave it a go.
Create Content and Get Paid
---