Why The 2018 Men's WWE Royal Rumble Match Was The Best Ever
With tears in our eyes.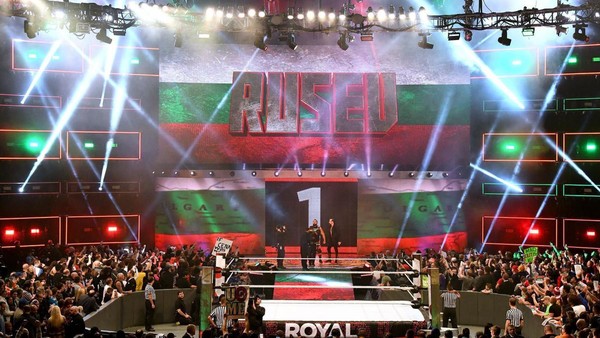 An atonement masquerading as an epic, exhausting wrestling match, the 2018 Men's Royal Rumble was the best of its kind.
Even when the Rumble is awful, it is captivating - often within the same very match - but this super-serving of fan service was as flawless as this inherently flawed match gets. Anxiety, the overarching emotion synonymous with the January spectacular in recent years, coursed through the audience almost immediately. Jarringly positioned in the midcard, those of a pessimistic disposition felt uneasy.
Roman Reigns is winning this thing. Roman Reigns is winning this thing, and he's winning it now because WWE does not want the inevitable shower of rage to define the show's closing moments.
Rusev emerged from the curtain in the #1 slot purely, you suspect, as an excuse for Aiden English to serenade us. What initially felt like a cynical retread of last year's calculated engineering of a "moment" soon dissipated upon the realisation that Rusev was infinitely more talented and popular than Big Cass. The tagline for last year's Alamo Dome-held Rumble, incidentally, ran 'Remember The Rumble'. WWE heeded their own advice, albeit one year later.
In 2018, WWE Remembered The Rumble.
WWE remembered its immense foundation for creativity. WWE remembered its platform to introduce and reintroduce us to the stars of the past and the future. WWE remembered that it is both the most fun and the most serious match promoted all year. The company remembered its inimitable appeal. Most tellingly, most rewardingly, WWE remembered its status as a meritocratic star-maker - and not an antagonistic, painfully predictable exercise in furthering an isolated narrative.
Rusev was joined by entrant #2, Finn Bálor, allowing the beleaguered, directionless Demon a platform on which to reconnect with a disenfranchised audience via an inspiring Iron Man stint. Clad in claret, Bálor looked positively regal - an inspired choice that mirrored his return to the realm of wrestling royalty. Rhyno delivered the usual early elimination, via Baron Corbin - before, in a shocking moment foreshadowing whose side WWE was on, fan favourite Bálor ejected the office's former golden boy. Corbin was apoplectic, removing and decking Bálor and Rusev from the fray. He then blasted an entering Heath Slater on the ramp, whose absurdly protracted selling only added more depth to the punchline.
With a motionless field ahead of him, Elias strummed his way to the ring, kicking Slater in the head without missing a note. This was glorious. Any heel can generate boos through criticising the local sports team; the magic of Elias - before he locks up, anyway - is his ability to rile up the digital global consumer. CONT'D...