Why The Great Khali Was Brought Back To WWE
The giant is there to help Jinder Mahal succeed in his homeland...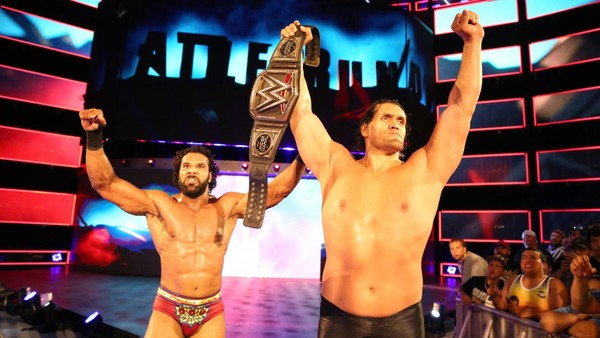 NoDQ.com are reporting that The Great Khali was brought back at Battleground this past Sunday to try and help legitimise Jinder Mahal in his native country of India.
The feeling is that Mahal's WWE Title reign hasn't went over as well in India as the company hoped, and that's why Khali returned to help him defeat Randy Orton in a Punjabi Prison match. As the bigger star in his homeland, Khali is there to endorse Jinder as WWE's top champion and reportedly make him look like a national hero.
It's unclear just how long Khali will stick around in WWE though. He wasn't on SmackDown, and there's no concrete evidence that he will be a regular again going forward.
A feud opposite Randy Orton heading into SummerSlam would make the most sense right now, but it's hard to see fans having much interest in seeing the giant (who is terribly unsteady on his feet) wrestle an extended match. Further, Orton's failure to reclaim the WWE Title from Mahal has arguably cooled him as a babyface, and it may be better if Randy takes a short break.