Why WWE Totally Wasted Starrcade
That's... it?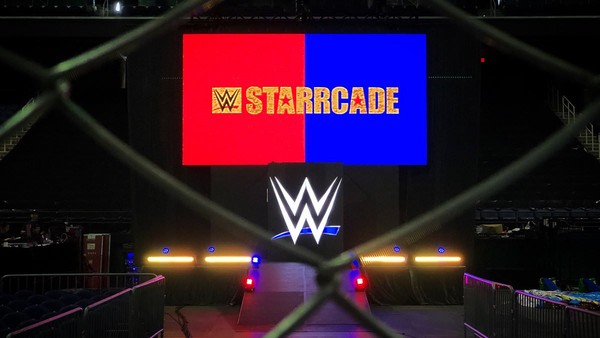 When WWE announced earlier this year that it would be reviving Starrcade for the first time since 2000, wrestling fans - for the most part - could hardly contain their excitement.
And sure: some said that an event produced by Vince McMahon could never - or, more accurately, would never - do justice to the WCW showpiece that those of a certain age once regarded as their WrestleMania. To illustrate the point, December To Dismember was cited as a cautionary tale (and not for the first time).
On the flipside, though, you had One Night Stands 2005 and 2006, ECW reunion shows liberally sprinkled with members of the original cast, which managed to capture exactly what made Paul Heyman's heavy-hitting, bingo hall-hosted wrestling so special.
There have also been signs, in the decade since, that WWE - under the new direction of Triple H - is at last beginning to embrace the creations of its rivals. AJ Styles is a two-time WWE Champion, for one thing, and how about NXT itself? The wrestling first approach adopted down in Orlando seems to be heavily influenced by Ring of Honor (from where it borrows much of its roster).
A show exactly like One Night Stand was never really likely. With the exceptions of Goldberg (who can only wrestle two minutes at a time) and Chris Jericho (who is currently preparing for a return to Japan), pretty much all of Ted Turner's biggest stars are either too old, too banged-up or, you know, too racist to compete.
Starrcade could still have been a night for nostalgia though. WCW traditions including the show's name and location - it took place at North Carolina's Greensboro Coliseum, which hosted four of the first five NWA events - were there to bring in the punters, but what about some nods to Eric Bischoff and co inside the ring too?
WarGames, of course, had already been used - and used to great effect - at last weekend's NXT TakeOver show. It was fitting that such an era-defining match-type be given its own, special event, but even if you take that off the cards there's still a host of things they could have rolled out.
Dream matches, you would think, are one of them. The original Starrcade was always the end of the line for the year's biggest and most long-running feuds; the stage on which names like Hulk Hogan, Sting, Roddy Piper, and Goldberg thrashed out their differences.
WWE instead used Starrcade as a show almost exclusively for rematches, plus a thrown-together 12-man tag team bout whose sole purpose appeared to be introducing Bludgeon Brothers Harper and Rowan as a force to be reckoned with. It looked (and, probably, felt) more like No Mercy or Unforgiven than one of the biggest shows of the year.
There also appears to have been little, in terms of booking, that would appeal to the WCW die-hards. Shinsuke Nakamua's US Title pursuit ended in a DQ win, to be fair (which is classic, Russo-era shenanigans) but aside from that it was standard WWE stuff: nothing new, and nothing particularly exciting.
The decision not to televise the event at all is a strange one. WWE is a company known for nothing if not cyncial cash-grabs, but appears to have passed up the opportunity (and, perhaps, the final opportunity) to wring the Monday Night Wars nostalgia sponge dry.
Did they fear that holding the show so close to Survivor Series would detract from the splendour of one of their traditional Big Four fixtures? If so, could they not have dropped it in, say, June or July, in place of Great Balls of Fire perhaps? Fans probably could have forgiven their not adhering to the traditional November/December scheduling.
In the end, it's WWE's loss as well as ours. This could have been the opportunity to breathe new life into some of those WCW principles that have been sorely missed from the world of wrestling since its collapse in 2001.
As the sole owner of the video library - and desperate to boost its Network subscriber count to make up for those flagging TV ratings - WWE would surely have reaped the rewards both short- and long-term from drumming up some interest in one of wrestling's fallen giants.
Documentary specials and merchandise (nWo T-shirts never really go out of fashion) are a given, but new stars could have been created, too, if some of the rookies were allowed to rub shoulders, if only via the microphone, with greats from eras past.
Instead, 25 November will go down as a night on which they didn't even bother with a custom set. Seriously, look at that miserable thing.
Create Content and Get Paid
---