Will This Man Be Special Guest Ref For WWE's Extreme Rules 'Fight Pit' Match?
A former WWE star just put himself forward to referee Seth Rollins vs. Matt Riddle.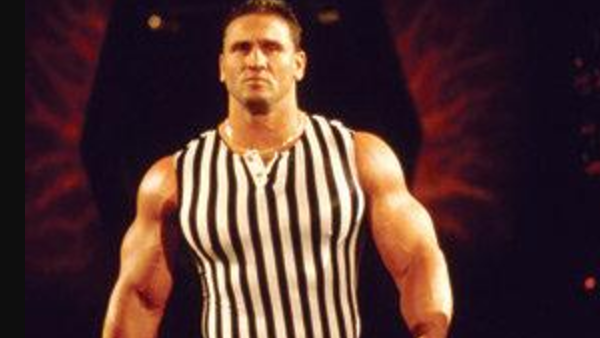 Ken Shamrock just put himself in the frame to act as 'Special Guest Referee' for the upcoming 'Fight Pit' match between Seth Rollins and Matt Riddle.
The former WWE and UFC man quoted a tweet from wrestling writer Giancarlo Aulino that suggested he don the stripes and step between both men on the upcoming Extreme Rules pay-per-view. Ken's own tweet said: "Couldn't agree more!".
Fans chimed in beneath Shamrock's message to tag Triple H and encourage the new WWE boss to 'make the call'. Ken previously worked as ref for the classic Steve Austin vs. Bret Hart epic at WrestleMania 13, then went on to have a successful in-ring career himself.
He hasn't been seen on WWE TV since departing the company in 1999.
Could a comeback be on the cards? Stranger things have happened, and Shamrock's name value in the MMA world would add some more credibility to the 8 October gimmick match. However, WWE chiefs may argue that Rollins vs. Riddle is a hot-enough story without adding anyone else into the mix for the sake of it.
Ken is game for showing up though.