William Regal Takes SCARY Bump, Stretchered Out Of AEW Dynamite!
MJF and William Regal leverage real injury concerns into shocking AEW Dynamite moment.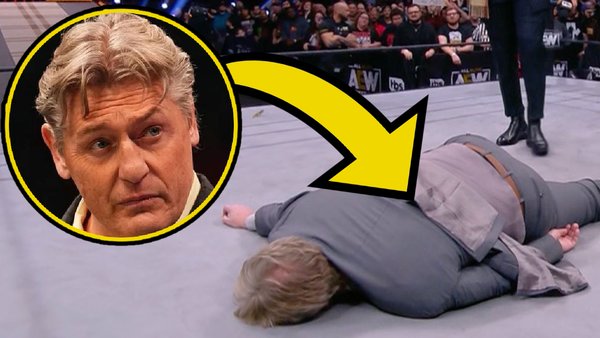 AEW used William Regal and his lengthy, delicate injury history to generate gutwrenching pro wrestling drama on last night's Dynamite, as MJF laid the veteran out with a brass knuckle shot to the back of the skull.
Regal had introduced MJF for a lengthy in-ring promo prior to this. Remaining alongside Max throughout, Regal, in storyline, was served just desserts. MJF's betrayal of him mirrored Regal's of Jon Moxley at Full Gear 2022, where the Englishman cost his now-former Blackpool Combat Club stablemate the World Title.
Also in storyline, it looks like Regal has succeeded in making the ultimate villain of MJF - albeit at immense personal cost.
With Regal unconscious beneath him, MJF quoted the now-infamous email William had sent him after a seemingly unsuccessful WWE tryout years ago, which formed the basis of their AEW relationship. AEW's announcers then hushed their tones as medical staff tended to the legend. Bryan Danielson joined the team in the ring, protecting Regal as he had done last week, when 'The American Dragon' was literally down on his knees, pleading with Moxley not to strike his mentor.
Stretchered out of the building, Regal didn't move save for a couple of leg twitches after being struck.
This angle came one week after Danielson had made a point of emphasising Regal's history of neck injuries and brain bleeds. MJF did the same prior to lashing out. Both stand as effective examples of using real-life drama to work a wrestling angle, resulting in a greater payoff.
That this latest Regal angle comes amidst speculation on the Englishman's AEW future will unquestionably spark speculation that this was a write-off. Time will tell in that regard.
Create Content and Get Paid
---