William Regal Teases WWE NXT Departure: "It's Time For A Change"
The NXT General Manager was in a reflective mood at the end of TakeOver: In Your House.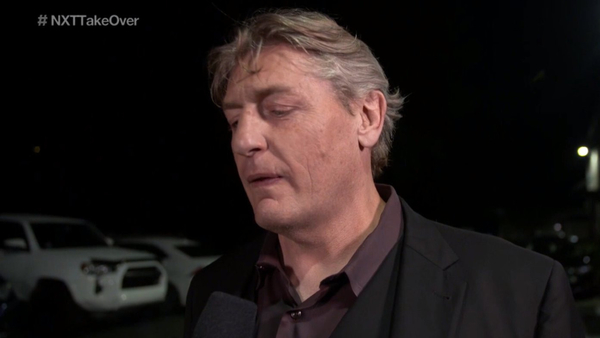 William Regal has thrown his future as NXT General Manager into question with comments made at TakeOver: In Your House last night.
Rather than closing on NXT Champion Karrion Kross following his successful title defence in the main event, the WWE Network/Peacock special cut to Regal, who was approached by interviewer McKenzie Mitchell. When asked for his thoughts on In Your House, the GM was reflective:-
"It's, um. It's been seven years since I became the GM of NXT and... I've never seen so much bedlam. It's complete madness. I think it's time for a change."
Regal then walked off as the copyright symbol appeared at the bottom of the screen, leaving Mitchell pondering the meaning of his words.
WrestleZone's Bill Pritchard asked Triple H and Shawn Michaels what Regal meant to NXT during the DX duo's post-show medical call. The Game responded as follows (h/t Fightful for the transcriptions):-
"William Regal has been such an integral part of this since day one. There are certain people that have and then [there are] people that have come in along the way that have become -- it's hard to envision doing it in any sort of way without them. Regal's definitely one of those people. I don't think that we will ever do it without him, he'll be a part of this until the day that he tells me he doesn't want to be a part of it anymore."
Triple H then spoke on Regal's behind-the-scenes role, hinting that something might happen with him on this week's episode of NXT:-
You know, he's constantly pulling talent aside, constantly in their ear. He's one of the biggest recruiting factors we have. He's got a handle on just about everybody that's out there and is one of the best eyes of somebody that's maybe never done this before that steps in the ring and just athletically you can see, 'Okay, yeah, they'll be able to do this and do it really well.' You know, he's, he's incredible at that. So his value here is tough to be measured and he'll always be a part of it, no matter where we go on Tuesday."
Regal was appointed NXT General Manager in July 2014, moving out of his old announcing role. He currently balances the onscreen job alongside a multi-purpose backstage role as WWE's Director of Talent Development and Head of Global Recruiting.
Create Content and Get Paid
---