Windham 'Bray Wyatt' Rotunda Drops Biggest AEW/ROH Hint Yet
Former Bray Wyatt drops references to several WWE, AEW wrestlers in tweet.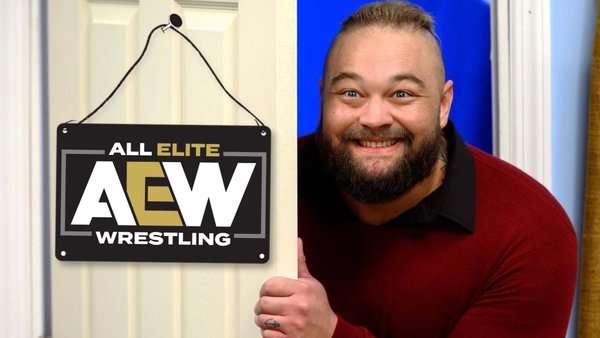 In what has become semi-routine at this point, Windham Rotunda dropped a new, cryptic Twitter message Sunday, cramming numerous wrestling references in a 149-word post.
The former Bray Wyatt posted about how wrestling "is not a love story," but is much more, calling it hope. But as you'd expect with a Windham message, the tweet was packed with plenty of content to be dissected, analyzed and hypothesized about.
Within the message, you can spot numerous just-beneath-the-surface references to WWE and AEW, including Ciampa, Madcap Moss, WWE's budget cuts, Undertaker, Ring of Honor, the Elite, Finn Balor (or possibly Kane), The Rock and Ric Flair.
- Windham6 pic.twitter.com/lZaqeXGFIk

— WYATT 6 (@Windham6) August 7, 2022
However, Rotunda took to Twitter to dispel some of the people who called out the tweet as cryptic, telling fans:
Nor is it meant to be. Just a feeling I wrote down. Its not my fault every time I say something everyone grades me like a middle school English teacher. See the forrest for trees man

— WYATT 6 (@Windham6) August 8, 2022
It's not meant to be cryptic. It's a reminder to myself and others that need reminding just how special this business is. And how lucky we are to have it. Put your microscope and biases aside and read it again. #DooDoo

— WYATT 6 (@Windham6) August 7, 2022
Wyatt was surprisingly released in July 2021, having not competed since losing to Randy Orton in a disappointing match at WrestleMania 37.
This isn't the first time Rotunda has used Twitter to post messages that fans have desperately sought to interpret. Two months ago, he tweeted, "Patience. It's almost time" which had fans speculating that he was going to turn up in WWE or AEW imminently.
With Triple H now at the helm of WWE and already bringing back released superstars Dakota Kai, Karrion Kross and Scarlett, could this speculation finally become reality? Once again, it's probably best not to try to read too much into Windham's tweets.
Create Content and Get Paid
---