Wrestling Legend Returning To Impact Wrestling After 12 Years
This former WWE, WCW, ECW and TNA star will be in the house at Against All Odds.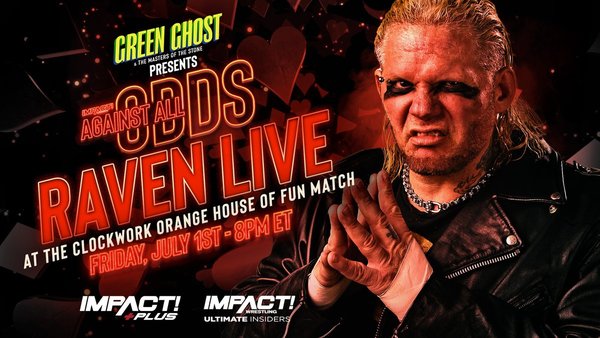 Raven has been announced as a special guest for Impact Wrestling's upcoming Against All Odds pay-per-view on 1 July.
This will be the ex-ECW, WCW and WWE legend's first proper showing for the company since 2010. Raven's last Impact match was a seven-minute loss to AJ Styles on a house show in mid-November that year; before that, the man worked as part of the EV 2.0 stable at the group's Turning Point 2010 event.
Now, Raven will oversee the 'Clockwork Orange House Of Fun' match between Sami Callihan and Moose. Callihan previously defeated Moose in a 'Monster's Ball' bout at Slammiversary, but the ante has been upped with Raven's gimmick.
TNA created the 'Clockwork Orange House Of Fun' stip back in 2003 during Raven's main run with the promotion. It became the veteran's hallmark, but it's now set for a grand return almost 20 years later.
There's no word yet on whether or not Raven will stick around in Impact following Against All Odds. This could very well be a 'one and done' appearance designed to give the latest Callihan vs. Moose showdown some more juice.
Create Content and Get Paid
---