WWE: 10 Things You Need To Know About New Divas Champion Paige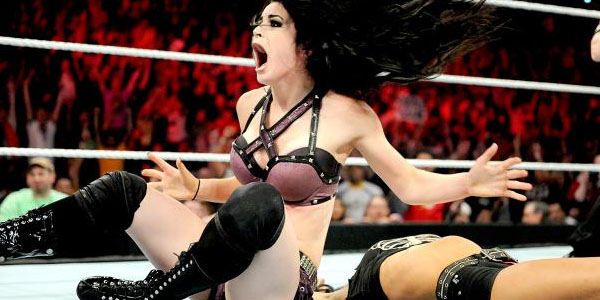 In NXT she was known as the 'Diva of Tomorrow' and the dawning of that day has arrived. Amidst two of the highest profile, industry-defining days in recent WWE memory, you would certainly be forgiven if the main roster debut of WWE's latest, raven-haired, lady didn't rank all that highly on your list of events that occurred over the course of said days. Streaks broken, eras ended- and, perhaps, started- major returns, Wrestlemania moments and the incredible WWE Wrestlemania audience, to say the least there are no shortage of talking points off of the back of that last, closing, shot of the Shield and Daniel Bryan standing united in the ring. Yet, certain moments of history cannot always be defined as they happen. Prospectively, the debut of Paige on Monday Night Raw was just that, another debut and as with any debut, the true gravity of what such a debut might mean for the near and distant future in the life of Paige and the entire WWE Divas division are by no means clear. Perhaps the history that has been made in that one 5-minute segment alone might be the zenith of Paige's impact in WWE... or perhaps, it may only be the beginning of a much larger, far greater motion. The likes of Jim Ross and Chris Jericho have alluded to that of which many are coming to see: times are a-changin' within WWE. Spearheaded by the "YES! Movement", a newer brand of WWE superstar is beginning to emerge and the influence of one's in-ring talent seems to be broadening. As Daniel Bryan, The Shield, The Wyatt Family and Cesaro embark upon a time in which one's popularity seems to come hand-in-hand with their in-ring skill, Paige's call-up to the main roster could not have happened at a better time. For FAR too long now, AJ Lee has stood as the only bastion of hope amidst an atrociously wasted talent pool of WWE divas. Anyone who will have seen the likes of Emma and Summer Rae tear it up in NXT will be wondering why they are relegated to comedy skits and dancing and have not yet been allowed the forum to showcase their own considerable talent. In that same NXT, Paige has stood at the forefront of a blossoming ladies' division and with the WWE Network providing mainstream exposure for the eyes of all fans to see the true in-ring talents of the ladies of WWE and the UFC's considerable success in promoting Ronda Rousey as its latest mainstream star, perhaps WWE is finally coming to terms with an idea most of us have craved towards for an age: maybe just maybe people might want to see the ladies wrestle. If that is indeed so, Paige's main roster debut could serve to become a turning point in the entire history of women's wrestling. Have WWE hand-selected the proud Brit as the flag bearer for a new wave of wrestling in their women's division? If so, why? It might just have something to do with the fact she is a wrestler, born and bred. Here's the rundown on your new Divas Champion, Paige...
Liam Johnson
Betting on being a brilliant brother to Bodhi since 2008 (-1 Asian Handicap). Find me @LiamJJohnson on Twitter where you might find some wonderful pearls of wisdom in a stout cocktail of profanity, football discussion and general musings. Or you might not. Depends how red my eyes are.
See more from Liam