WWE: 20 Best PPVs Of All Time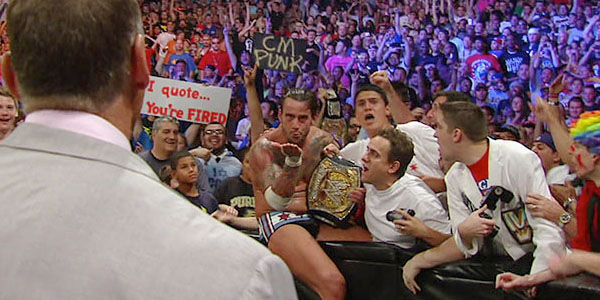 This Sunday's WWE Elimination Chamber pay-per-view marks the end of WWE's traditional PPV era. Due to the incoming WWE Network launching on Monday in America, fans won't have to pay for every PPV individually. If you have WWE Network, you get all the PPVs that are new and all the old ones too. It may hurt the quality of PPVs although that's unlikely. WWE uses PPVs as shows to build to and shows to settle rivalries, so that will likely continue to happen. Here's a ranking of the 20 best WWE PPVs ever. It's a huge task and one that is obviously hard to do without re-watching everything that WWE has put out. I'm going mostly by own memory and also things that I have written elsewhere in my decade plus of writing about wrestling online. It's hard to capture everything, but I'm doing the best I can with it. A couple of notes on the list: - Only WWE produced PPVs were counted. That means nothing from WCW or ECW as far as their originals. There is a ECW One Night Stand show that made it because it was produced by WWE. - There are going to be a lot of PPVs from the 2000s and beyond while the 1980s don't have any representation because as full shows they are not as comparable. The 1990s have some mentions, but not that many. If you watch PPVs from the 2000s and beyond, the bigger matches are given more time, the structure of the shows are better, there are usually not as many matches and the quality is generally better. - My opinion is that from 2000 to the first four months of 2001 was the best time period in WWE history and with that in mind, there are several PPVs from that time. I thought of others from 2000 that could have been included too, but had to leave some out. - Major shows like WrestleMania and SummerSlam will be featured more because they're more memorable. Also they usually have better booking leading up to them. - The rankings are based on a number of things like match quality, memorable moments and having great matches throughout the card. If there's only just one special match with nothing else that was really great then it's not going to make it. It's tough to rank something like this, but I did the best I could. I realize a lot of comments will be about things you may have thought I missed and that's fine. There are hundreds of WWE PPVs over the course of the last 30 years. There's no way to capture everything. I hope you enjoy reading this as much as I enjoyed writing it.
John Canton
John wrote at WhatCulture from December 2013 to December 2015. It was fun, but it's over for now. Follow him on Twitter @johnreport. You can also send an email to mrjohncanton@gmail.com with any questions or comments as well.
See more from John