WWE: 7 Innovations Paul Heyman Did That Changed Wrestling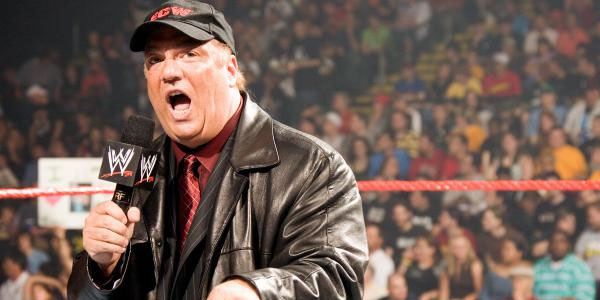 Modern wrestling fans will know the loud mouthed Jew from New York as a manager, representing the likes of the recent Streak Conqueror Brock Lesnar and the longest reigning WWE Champion of the last 25 years CM Punk and his latest acquisition Cesaro, but few men have had as big an impact upon professional wrestling as Paul Heyman. Throughout his 25+ year career Heyman has been a manager, promoter, commentator and journalist in wrestling and a marketing guru outside of it. He started out his managerial career under the moniker Paul E. Dangerously before leaving WCW on bad terms and joining forces with NWA Eastern Championship Wrestling owner Tod Gordon to create the ECW known today, Extreme Championship Wrestling. The company would change the face of wrestling forever before it went out of business and was purchased by the WWE. Heyman joined the new company as a heel colour commentator before going on to manage the man who is still his client and close friend to this day, Brock Lesnar, and then managing Big Show and Kurt Angle against him. Heyman left television for half a year thanks to a combination of injury and a disagreement about his role at WrestleMania XIX and returned as General Manager of SmackDown (where he also served as an award winning head writer). After "quitting" the role of GM he managed the Dudley Boyz and Heidenreich in feuds against The Undertaker, before eventually fronting the revival of WWE's ECW brand. He would leave the company after a major dispute over the failed December to Dismember pay-per-view event but would return in the corner of Lesnar in 2012. Since then he managed CM Punk through his record breaking title reign and temporarily revitalised the career of Michael McGillicutty by rebranding him Curtis Axel and an even shorter time spent with Ryback. It's easy to see that Heyman has left an undeniably large legacy behind him, one very worthy of a surely inevitable Hall of Fame induction at some point in the future, but just how did this one man manage to change the entirety of professional wrestling? Here we shall look at seven of the ways that he changed a brand of entertainment he had viewed as outdated.
Philip Frazer
Founder of ForTheRecordNews.com; he is a long time fan of wrestling, television, film, sports and video games from North Yorkshire.
See more from Philip