WWE Adds Huge Gimmick Match To Extreme Rules 2022
It looks like the bumper bout WWE announced on SmackDown will headline Extreme Rules.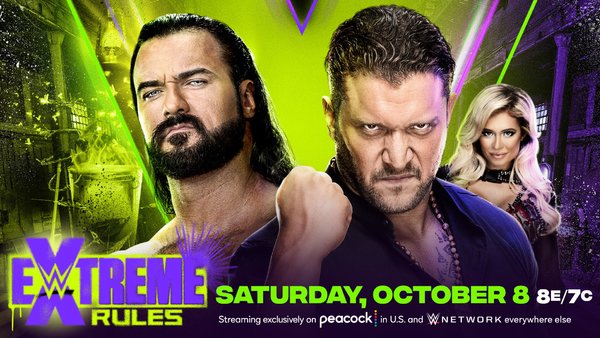 WWE has added Drew McIntyre vs. Karrion Kross to the Extreme Rules lineup on 8 October.
McIntyre fired out the challenge for a 'Strap Match' on Friday's episode of SmackDown, then brawled with Kross - the segment also included a botched fireball spot, but everybody managed to work around that and hammer home the point regardless.
The gimmick actually makes some sense too, because Drew reasoned that Karrion has been running from him since returning to WWE. Now, come the pay-per-view, he'll literally be strapped to the Scot and won't be able to dash off into the night after attacking.
There's a fair chance Drew vs. Kross could headline Extreme Rules.
Other bumper matches on tap include Liv Morgan vs. Ronda Rousey for the SmackDown Women's Title (they're getting the titular Extreme Rules stip) and Matt Riddle vs. Seth Rollins in a 'Fight Pit' match. WWE could lean on the latter to sell the show, or they could view McIntyre vs. Kross as the natural main event.
Roman Reigns, who wrestles Logan Paul at Crown Jewel in early-November, won't be involved on 8 October. The 'Tribal Chief' is sitting this supershow out.