WWE Backstage Reaction To CM Punk: "Triple H Wants To Kill Punk"
The fallout continues as Vince McMahon and more react.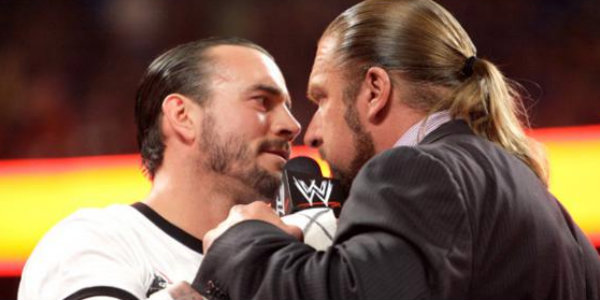 Triple H wants to kill CM Punk, reports Bryan Alvarez on Figure Four Daily Radio. Alvarez has talked with his sources within WWE, with one text from an insider matter of factly stating "Triple H wants to kill Punk." This is following Punk's interview on Colt Cabana's podcast, where Punk disparaged Hunter and the WWE in general. As for Vince McMahon, he is described as calm. He wasn't happy with some of Punk's comments, but it wasn't as if he was over the top angry or upset. On the other hand, Stephanie McMahon is "fuming". "Hunter and Stephanie have such an abject hating of CM Punk. They are fuming" Alvarez reveals. Punk has been placed on the "ultimate no call list" and will never be welcomed back to WWE by Triple H or Stephanie. There's a chance that Vince could look at doing business, but that also seems unlikely. In regards to Vince discussing Punk's comments, there's a chance he could say something on Steve Austin's Podcast interview this Monday. If the subject does come up, it is expected that Vince will give a "politically correct" answer. The majority of the WWE Locker Room - both those who liked and disliked Punk - thoroughly enjoyed his interview with Cabana. There's a feeling that what he did was the greatest thing ever. Not everybody is feeling that way. Ryback is obviously unhappy at being described by Punk as a "Steroid Guy." Ryback's latest tweet reads -
"Last message on this. I will tell the truth about @CMPunk comments in due time. Not once did he ever confront me. Let's all move on. Thank u."
So, Ryback is now calling Punk a liar. Punk had stated that he had confronted Ryback about hurting him so much. Supposedly Ryback admitted to being "dumb as f**k" in this exchange. One guy who is supporting Ryback is Dolph Ziggler. He tweeted "repping the big guy @Ryback22" on Friday, at the same time as posting a photo of himself in a Ryback shirt. We'll now have to wait and see if WWE respond in any sort of legal manner to Punk's disparaging remarks. Triple H is livid and will look to hit back in some fashion. One thing for sure is that we will never see CM Punk back in the WWE. In fact, the entire legacy of Punk's WWE run is perhaps going to be flushed down the company toilet. This is going to be like Randy Savage but bigger, Triple H and Stephanie McMahon will make sure to bury CM Punk in whatever sneaky way they can.
Create Content and Get Paid
---