WWE Books HUGE Reunion Angle On SmackDown
A WrestleMania 39 match is all but set after this WWE reunion on SmackDown.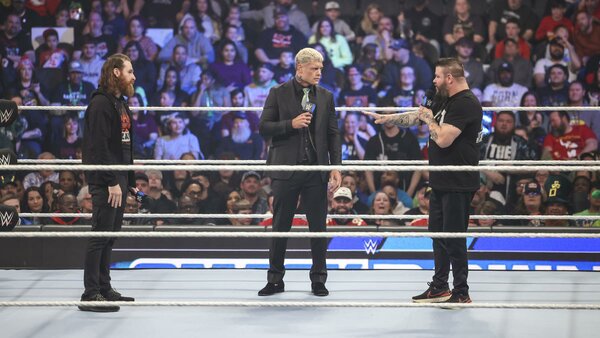 Kevin Owens and Sami Zayn finally reunited on this week's episode of SmackDown following an intervention from WWE Royal Rumble winner (and WrestleMania 39 number one contender) Cody Rhodes.
Rhodes requested that KO, in particular, come to the ring so he could have a little chat with him. Then, Roman Reigns' opponent next month thanked Owens for introducing him to mutual friends (The Young Bucks etc) and tried to get he and Sami to see eye-to-eye.
It didn't work at first - Kev ignored Zayn's pleas, but seemed affected by something his old pal said before leaving the arena. Later, when Sami was outnumbered by The Usos, Owens marched back into view and saved him from a kicking.
That's when the pair hugged to a massive response from fans there live for SmackDown.
Everyone knew this would happen eventually, because it's no secret that WWE plans to book Sami and Kevin vs. The Usos for the Undisputed Tag-Team Titles at 'Mania. However, despite the predictability, this was another thumping story beat for the overall Bloodline story arc, and proved very popular with the live crowd.
Bring on WrestleMania.
Create Content and Get Paid
---