WWE Cancelled THIS Planned Royal Rumble Title Match
Originally, someone was supposed to get a WWE title rematch at the 2023 Royal Rumble.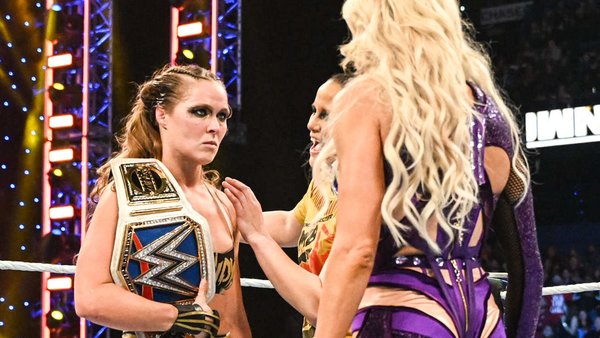 Ronda Rousey was originally pencilled in to work a SmackDown Women's Title rematch vs. Charlotte Flair at the 2023 Royal Rumble, but plans changed behind the scenes.
Fightful Select reports that this was WWE's plan right up until last month. Currently, despite being the brand's top female champ until Charlotte Flair's return on 30 December, there's no spot for Ronda on the upcoming pay-per-view.
That's quite the omission considering her star power.
It's possible that WWE wants to keep a surprise Rumble spot close to the vest - company sources might even be toying with the pro wrestling media by revealing that Rousey's planned PPV title bout was scrapped by management. She could still be a last-minute addition to the 30-woman match.
Something changed on WWE's side though. They went from being all in on Ronda challenging Charlotte to launching a mini-feud between Flair and ex-authority figure Sonya Deville. It's unlikely that storyline will make it onto pay-per-view in a bumper singles bout, so Charlotte could sit the Rumble out herself.
Again, it doesn't look like there's anything on the booking sheets for Ronda in San Antonio.