WWE Confirms Surprising WrestleMania 39 Match On SmackDown
SmackDown's booking all-but-announced this shock WWE WrestleMania 39 clash.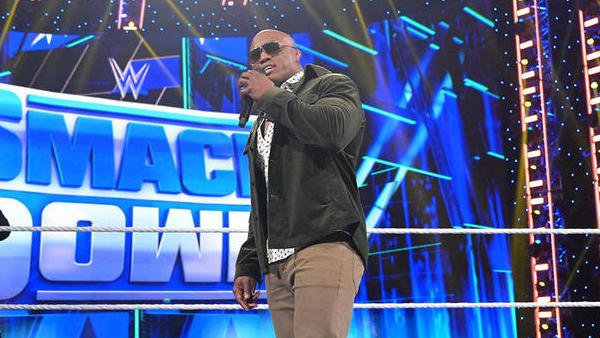 Bobby Lashley vs. Bray Wyatt has pretty much been confirmed for this year's bumper WrestleMania 39 festivities.
Lashley crossed over from Raw to appear on this week's SmackDown, and cut an in-ring promo talking about Bray. That caused the mysterious 'Uncle Howdy' to appear - Unc then brawled with Bobby, but disappeared once it looked like Lashley was getting the upper hand on him.
Wyatt didn't show face, but there's plenty of time for WWE to book that face-to-face. It could even happen on Monday's episode of Raw, because the company has already announced that 'Howdy' will show up to get in Lashley's face again on the flagship.
Look out for Bray there.
Lashley has been positioned as the clear babyface in this scenario, which is interesting for multiple reasons. Firstly, he's never been the most convincing as a face on the mic. Second, WWE hasn't fully explored Wyatt's nervous self-reflection despite that being arguably the most interesting thing about him since returning late-last year.
Regardless, it looks like WWE has decided to plough ahead with Lashley vs. Wyatt at 'Mania 39. There's no turning back now.