WWE Confirms WrestleMania 39's Opening Match
Here's the match that'll kick off WWE's huge WrestleMania 39 weekender.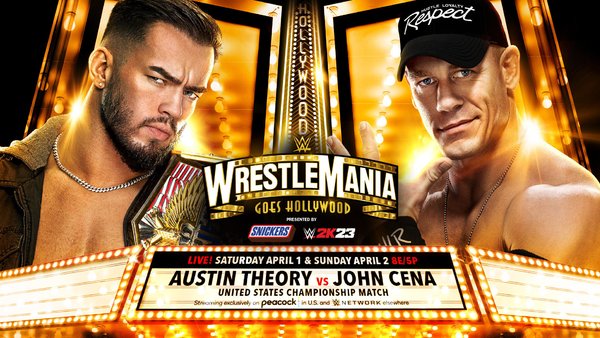 John Cena challenging Austin Theory for the United States Title will kick off WrestleMania 39 weekend.
WWE announced this news during Friday's episode of SmackDown. Rumours had hit social media earlier in the day saying the same thing, but the company confirmed things on TV.
Now, fans are guessing that Cena will kick 'Mania 39 off with a heroic championship win by putting Austin Theory in his place. However, a few believe this is WWE's way of properly elevating Theory by making his own victory over childhood idol JC the first thing people watching the pay-per-view see.
Choices, choices, choices.
Either result works, but Cena's Hollywood schedule would make it challenging for him to appear as champion on TV going forwards. Austin winning is the more likely outcome then, but fans shouldn't rule anything out - John grabbing a sixth US Title reign could be why this is going on first.
A few others joked that Cena needed to skip town early due to filming commitments, so he's requested that his match open the show.
One thing's certain: Theory vs. Cena is a tasty way to kick off 'Mania weekend.