WWE Crowd Turns On & Boos Hulk Hogan At WrestleMania 37
WrestleMania 37 guest host Hulk Hogan didn't get the reaction he would have wanted...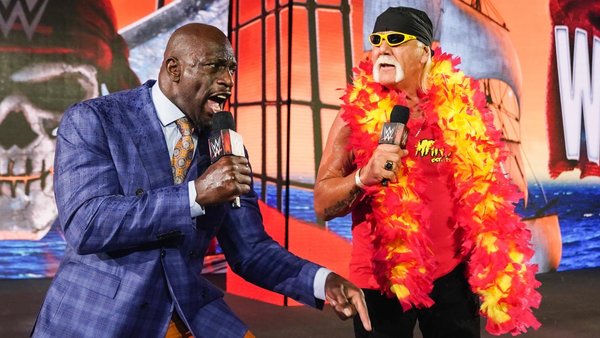 The WrestleMania 37 crowd turned on and loudly jeered Hulk Hogan during each of the show's two nights.
Hogan was on the card as a special guest host alongside Titus O'Neil, as well as a Hall of Fame inductee with the New World Order, and attracted considerable heat when appeared at the top of each of the two nights.
Though there were clearly some cheers mixed in there as well, and WWE's post-show editing will likely see a lot of the negativity removed, clips like this highlight the true nature of Hogan's night one reception:-
Hogan got booed lmao #WrestleMania pic.twitter.com/2nxRjLWVmR

— Justin J. Lopez (@stellar_jl319) April 11, 2021
This was repeated on night two, when Hogan and O'Neil came out dressed in pirate-like garb to help kick the show off. Clearly, the Tampa, Florida audience had little time for Hulk and his signature catchphrases.
Though still mixed, the reception was noticeably more negative than the one Hogan received at WrestleMania 35, when his surprise appearance was met with cheers, boos, and outright confusion.
It shouldn't come as a huge surprise, though, considering the man's response to admitting his own racism on tape was an attempt at absolving himself of all blame, claiming he didn't know he was being recorded.
Elsewhere on night two, the WrestleMania 37 crowd went rogue on The Bella Twins, jeering Nikki and Brie as they attacked Bayley in what was likely intended to be a babyface spot.
Create Content and Get Paid
---