WWE Crown Jewel 2021: 35 Things You Probably Missed
Seth Rollins swears; WWE stars use AEW finishers; Corey Graves forgets Sheamus exists.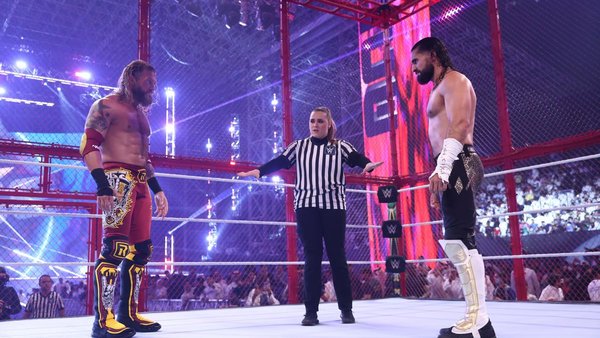 Christ, that was some show.
WWE delivered the best Saudi Arabian special yet on Thursday. If that doesn't sound like high praise, then consider this: Crown Jewel 2021 had a red hot Hell In A Cell opener, two satisfying tournament outcomes (for King Of The Ring and the Queen's Crown), a thumping 'No Holds Barred' midcarder, some stirring exchanges between SmackDown's women and one hell of a drama-fuelled main event.
Did any of the previous Saudi stadium shows have all that to brag about? Did they b*llocks - in fact, most of them were roundly rubbish. This...this might've turned the nose up for these international jaunts, especially if WWE continues to offer this sort of quality.
What about the hidden gems though? Don't worry, because they were as abundant as they were interesting. Crown Jewel offered a lot for those who watched every entrance, match, promo, video package and intro. The show had everything from Seth Rollins losing his composure and WWE stars using AEW finishers, to blood and Bray Wyatt sightings.
Enjoy the best sneaky moments from WWE's latest pay-per-view. All 35 of them...