WWE Elimination Chamber 2017: 21 Best Internet Reactions To Bray Wyatt's Win
The buzzards will be delighted.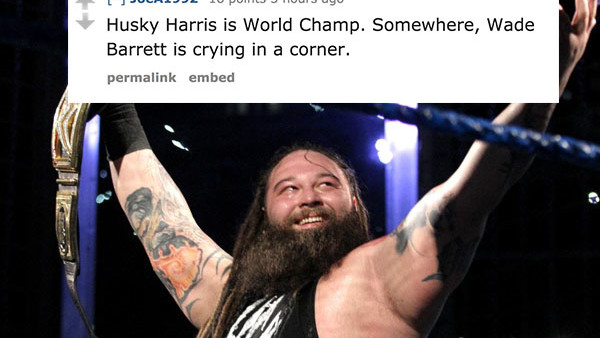 For probably a way too significant number of Bray Wyatt's fans, the images confirming him as WWE World Champion probably weren't going to come. It looked too unlikely, the way he was being booked at times, and it seemed that he genuinely might not be the right fit to put a belt on.
Flash-forward to the climax of Elimination Chamber 2017 and the wrestling community is practically soiling itself with glee at the not entirely unexpected shots of him holding the belt and pointing at the WrestleMania sign. How times have changed.
All-in-all, the PPV was another mixed bag, punctuated by moments and matches of greatness (like the main event and Luke Harper against Randy Orton predominantly), but also marked by booking decisions that look patchy at best and downright malicious at worst. Luckily, a lot of fans will forget most of what happened, which WWE will probably take, but the immediate reactions to everything away from the big finish suggest that the fans noticed that not all was entirely well.
Special mention to Virgil, for some absolutely ridiculous tweets...
Here's how rest of the Internet responded to WWE Elimination Chamber 2017...
21. Oh Dear, JBL
It's almost like he SHOULDN'T be jigging his way down ramps at high speed to get the crowds excited... But you just can't stop the magic from flowing. And maybe he legitimately likes to sign onto Twitter after PPVs to see the marks ripping him to shreds for more than his "insightful" commentary.
Or maybe - just maybe - something else is going on...?
And at least some fans got more satisfaction out of the tumble than some of the actual bouts on the card...
King Ross' hot take on events will be worth a look...