WWE Ends The Brand Split?
WWE Raw and SmackDown stars pouring onto opposite shows looks set to continue.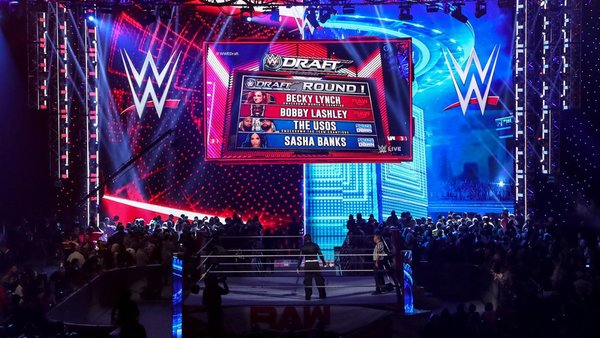 While WWE is yet to officially announce anything, the company's main roster brand split appears to be "essentially done."
Speaking on the latest episode of Wrestling Observer Live, Bryan Alvarez noted that although the promotion is yet to rubber-stamp it, the split is effectively over. WWE's growing habit of allowing wrestlers assigned to either Raw or SmackDown to appear on other brands looks set to continue for the foreseeable future.
The brand split has been loose for several months now. and with the SmackDown-assigned Usos and Sami Zayn wrestling on this week's episode of Raw, this Friday's blue brand show will see Seth Rollins, Kevin Owens, and Cody Rhodes cross over from Mondays (per PWInsider's Mike Johnson).
Reintroduced following the company's first official talent draft in years in 2016, the brand split initially served to organise WWE's gargantuan main roster into two separate groups of talent, theoretically allowing for more television time. WWE has often kept it loose, however, most notably with the maligned Wildcard Rule of 2019, which allowed for up to four wrestlers to switch brands per night.
WWE immediately undermined this by breaking the Wildcard Rule on its first night.
May 2020 saw the company's Brand-to-Brand Invitation Rule introduced. This allowed wrestlers to guest star on the other show four times every year, though this, too, appears to have gone the way of the dodo.
Create Content and Get Paid
---