WWE Fastlane 2019: Star Ratings For All 10 Matches
A now-trademark bizarre, ferociously uneven and overlong WWE pay-per-view.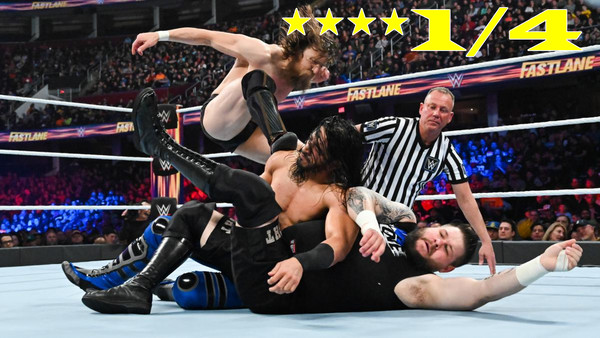 Why is every WWE pay-per-view as weird as sh*t now?
Is the company actively trying to stun us into a state of complete mystification? And to what end?
It's almost impossible to sleep after PPV Sundays, even for those viewers, like your English writer, who stay up until the small hours to watch it live. Fastlane served us the most euphoric fan service imaginable, while simultaneously giving us cause to confuse the performer we want most in the main event of WrestleMania 35 with her mortal enemy.
It was a show that invited failure, and yet escaped.
Perhaps the secret masterplan is to screen WWE Photo Shoot in the background as the pay-per-views fade to black. This way, we inadvertently prop up the success of WWE's forgettable and unpopular original content, creating an optimistic if artificial outlook for shareholders. They think we're consuming, engaging. In reality, we are shellshocked, reconciling why Schrödinger's Kofi is both super-over and "Boring".
Fastlane was really weird. It was a show on which Baron Corbin starred, and Mustafa Ali was booed out of the building. It was a show on which Vince McMahon contrived to turn two babyfaces heel at once if, in fact, Kevin Owens is a babyface. He bowls. Are bowlers babyfaces?
Fastlane, at its best, was also bloody good.
10. KICKOFF: The New Day Vs. Rusev & Shinsuke Nakamura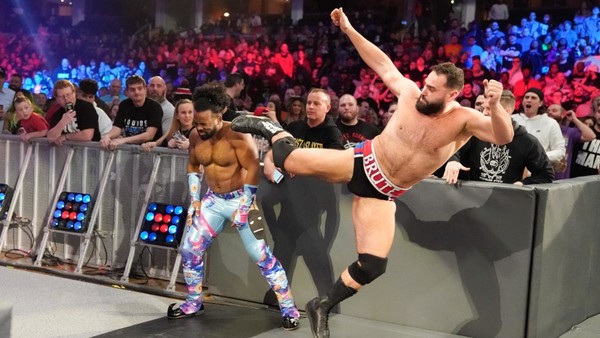 Now fully reconciled with the idea that Shinsuke Nakamura does no give a toss, it's perversely fun to watch him in his new, louche, lazy mode. He used to throw apathetic, aimless kicks as part of his King of Strong Style act. He used to disrespect his opponents, but now he is effectively disrespecting the company that pays him millions to surf in Floridian waters.
But, astonishingly, this burst into life after the customary slow start. Big E, simply too enthusiastic to prick about, announced himself in the match by going thudding suplex apesh*t and taking, with no compunction, Nakamura's kicks right to the back of his head. Xavier Woods was on great form, too, galvanised perhaps by Kofi Kingston's rise to the top of the card. He bumped big for Rusev's power game, and made every flailing nanosecond count to extract the maximum drama.
Woods is also an underrated and overlooked psycho bumper; he took a wicked tandem chokeslam of sorts to the floor, adding an anxious dimension to the usual back-and-forth Kickoff dynamic.
Near-falls; creative spots; last-gasp saves: the New Day never phone it in.
Star Rating: ***