WWE Hall Of Famer Says "F**k Matt Cardona"
Wrestling legend addresses "the Matt Cardona situation".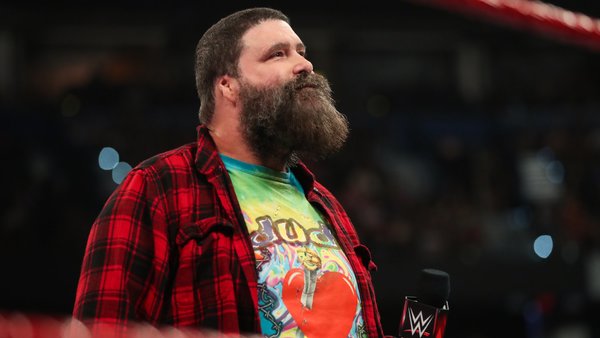 With last night seeing Matt Cardona sporting a "F**K MICK FOLEY" message at The Wrld on GCW, Foley himself has moved to respond to Cardona's statement.
For those who missed it, the former Zack Ryder came to the ring for his match against Joey Janella wearing a flannel shirt with the aforementioned message printed on the back. Cardona would mimic the Sandman's iconic entrance as he made his way out to the ring at the legendary Hammerstein Ballroom, and the GCW faithful didn't hold back in making their feelings known towards the one-time GCW World Champion. And now, Foley has likewise shared his own feelings on Cardona.
Speaking on his YouTube channel, the Hardcore Legend was full of plentiful praise for Cardona, while also being sure to say "f**k Matt Cardona".
As Mick put it (via Fightful):
"Matt took a shot at Mrs. Foley's baby boy with his interesting choice of ring attire. While I appreciate the GCW fans flipping him off on my behalf, while I appreciate my friend, the Savage Gentlemen, whose wedding I officiated, that is real, wanting to do battle with him on my behalf. The truth is, from a personal standpoint, I was happy for him. Yeah, it made me laugh because I felt like Matt was done wrong in WWE. He reached for that brass ring, grabbed it, and was asked to return it. Ultimately, everyone who leaves a major company has a choice to make when they hit the independent scene."
Foley continued on:
"That choice is, 'Do I just do the same things I did, the things that I was known for, or do I reinvent myself?' I call that the Drew McIntyre route, the road less travelled. That is what Matt Cardona has done. He's completely reinvented himself, and in doing so has become one of the most enjoyable and valuable assets on the wrestling scene, and knowing that I'm playing just a small part in that reinvention, a tiny part, that makes me happy. And in conclusion, f**k Matt Cardona!"
All of this follows Cardona previously challenging three-time WWE Champion Foley to a death match towards the end of last year. Of course, Mick is a long-time officially retired. Still, that hasn't stopped the self-anointed Death Match King from using Foley's name to add further to the ever-increasing buzz which surrounds Matt Cardona these days.
You can find all of Foley's comments below.
Create Content and Get Paid
---