WWE Hall Of Famers Nikki And Brie No Longer Using Bella Name
The Bellas are no more! Well, kind of.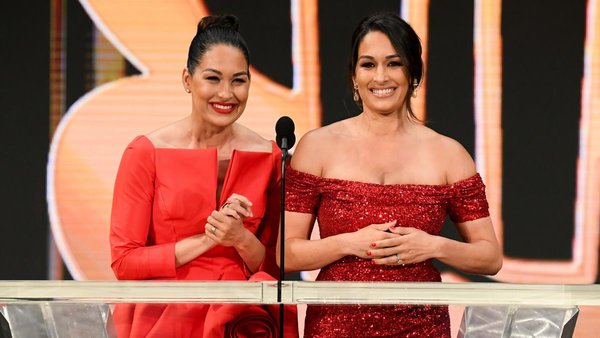 The Bellas are no more! Well, at least by name, anyway.
As reported by WrestlingNews.co, Nikki and Brie have decided to stop using the Bella name.
This change has already been reflected on the pair's shared Twitter account, with their handle now @NikkiAndBrie rather than the previous @BellaTwins. Instead, the WWE Hall of Famers will be collectively known as the Garcia Twins from here on out.
To promote the relaunch of their Nikki and Brie Show podcast, the twins confirmed the dropping of the Bella moniker in a social media video:
Hi I'm Nikki Garcia, Hi I'm Brie Garcia. And we're the Garcia Twins. 👯‍♀️ Welcome to our next chapter! 🦋✨🤍✨🦄🤩🥳🫶🏼🫶🏼🍷🥂🍾 pic.twitter.com/w6GQM0P7Zi

— Nikki & Brie (@NikkiAndBrie) March 14, 2023
Of course, Garcia - well, Garcia-Colace - is Nikki and Brie's real last name prior to their respective marriages. Nowadays, Nikki has taken on the Chigvintsev name after marrying dancer Artem Chigvintsev, while Brie took on the Danielson mantle after tying the knot with a certain American Dragon.
Whether the dropping of the Bella name means the 39-year-olds have completely severed their ties with WWE, that remains to be seen. Both Garcia siblings were critical of WWE earlier this year for the company's poor treatment of female legends on Raw XXX, with Madusa/Alundra Blayze the only female icon to appear.
Interestingly, Nikki and Brie were advertised for that Raw anniversary special, and were even in the area for the show, but ultimately WWE opted against having them appear.