WWE Hell In A Cell PPV - 5 Matches Announced
Two HIAC matches plus the twin sisters are ready to settle their differences.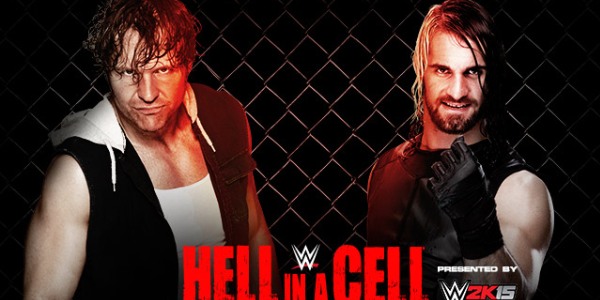 The WWE Hell in a Cell Pay-Per-View takes place on Sunday October 26th in Dallas, Texas. There were five weeks between Night of Champions and Hell in a Cell. It seemed like WWE took their sweet time in getting their card set up. There were all kinds of rumors about what matches might take place and in what setting, but now it seems like they have everything in order. The two main events were set up on Raw while others were confirmed on
WWE.com
as well. Here's a look at the five announced matches.
Seth Rollins vs. Dean Ambrose in a Hell in a Cell Match
- Ambrose faces Rollins after he beat John Cena on Raw in a "Contract in a Pole" Match that he won because of the interference of The Authority. While Cena was giving Kane an Attitude Adjustment, Ambrose scaled the turnbuckle and grabbed the contract to win. Rollins vs. Ambrose has match of the year potential and it could be feud of the year too. It's been a down year in WWE, but that rivalry has been hot. Hopefully it's not an overbooked finish with interference so that the focus can be on the match.
Randy Orton vs. John Cena in a Hell in a Cell Match
- Here we go again. WWE spent Monday night saying that Orton would face the "other guy" from the Ambrose/Cena match without calling him a loser. It's typical WWE protecting Cena. These two have wrestled so many times in the last seven years. There's no better example of how stale WWE booking is than by the fact that they are doing Orton vs. Cena again. Since Orton is probably going face soon, Cena will probably get the win. Those are the two Hell in a Cell matches. Hopefully Rollins/Ambrose is the main event although nothing is official yet.
Big Show vs. Rusev
- Their match on Monday's Raw ended in a disqualification, so doing another match at Hell in a Cell makes sense. Rusev will probably win. Mark Henry could show up to try to help Show. A heel turn for Henry has been rumored for a few weeks.
US Title Match: Sheamus vs. The Miz
- This one is for the US Title because Miz beat Sheamus in non-title matches. It was never clean or decisive, but it was enough to earn the title shot. Don't be surprised if Damien Mizdow (Sandow) tries to get involved, somehow costs Miz and then it leads to the face turn for Mizdow. It would be a surprise if Sheamus lost.
Nikki Bella vs. Brie Bella
- The twin sisters will have their one on one showdown at Hell in a Cell. It was smart to wait two months for Nikki's heel turn in order to set up the match. Contrary to previous rumors, this one won't be inside the Cell. As we have reported previously, no sign of WWE Champion Brock Lesnar on this show. He's not expected back in WWE until January's Royal Rumble. Other rumored matches are Dolph Ziggler defending the IC Title against Cesaro as well as Goldust & Stardust defending the Tag Team Titles against The Usos. There could be another AJ Lee vs. Paige match for the Divas Title too. You can catch WWE Hell in a Cell on Sunday October 26th on WWE Network or on your local PPV provider.
Create Content and Get Paid
---