WWE Lose $1 Billion In One Day
Yes, ONE BILLION DOLLARS.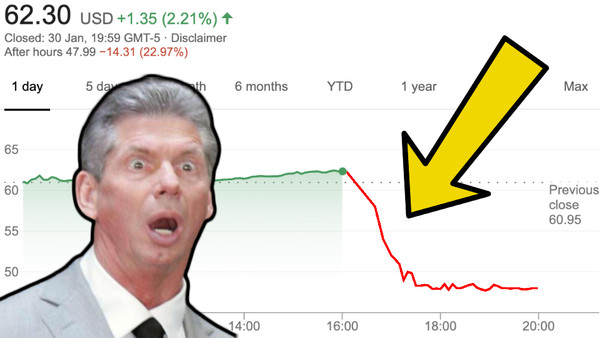 Bloomberg reports that WWE experienced a dramatic 28% plunge in stock value on Friday. That drastic fall equated to $1 billion being erased from company spreadsheets. To quote Mark Henry's old theme, "Somebody gon' get their ass kicked".
This comes hot on the heels of news that WWE had parted ways with top executives George Barrios and Michelle Wilson earlier in the week, and it's a major market cap loss for the organisation.
The stock drop is WWE's largest in almost six years, and sends company stocks plummeting to their lowest point since May 2018. Bloomberg also stated that the drop had caused several analysts to "lose confidence in (WWE's) financial projections".
Ouch.
Headlines like this certainly aren't the ones WWE want to be making during what's supposed to be the most exciting and lucrative time of the year. WrestleMania 36 is right around the corner, but reports of plunging value on Wall Street and investors losing confidence are rife.
WWE's next investor conference call will be an interesting one; Barrios and Wilson had been a huge part of those calls for years. There's no word yet on who will join Vince McMahon for the next one.
Create Content and Get Paid
---