WWE Makes SummerSlam's Universal Title Match Official On SmackDown
As expected, John Cena vs. Roman Reigns is happening at SummerSlam 2021.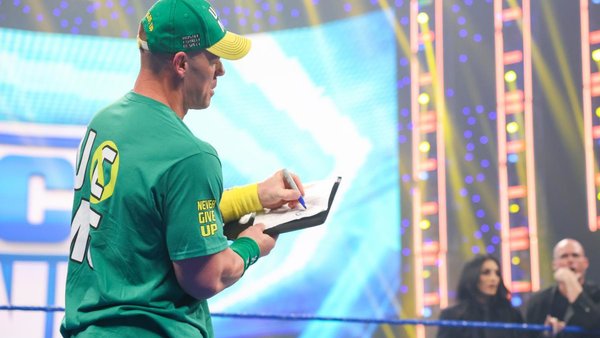 Let it be known that John Cena is a dirty, rotten thief.
OK, maybe not, but JC did swoop in to sorta/kinda/pretty much steal Finn Bálor's bid to challenge Roman Reigns for the Universal Title at SummerSlam; few fans will actually be upset about that, because Cena in the challenger spot has been all-but-confirmed since Money In The Bank.
Now, it's official.
Baron Corbin attacked Finn before the Irishman could put his name on the dotted line. The down-on-his-luck heel (who has become a more sympathetic figure as of late) then went to sign the contract himself - that's when 'Super Cena' moved in to scoop the glory for himself.
Paul Heyman brilliantly tried to argue that Bálor's name was on the document in print, but Adam Pearce noted that only signatures mattered. Basically, it's Cena who gets the Universal Title shot at SummerSlam, not Finn or Baron.
This helped set up a match between Finn and Corbin for next week's episode of SmackDown too. Admittedly, feuding with Baron is a step down for Bálor, but nobody really believed he was jumping ahead of John Cena in the long run anyway.
It is what it is.
Create Content and Get Paid
---