WWE Officials Believe The Undertaker Is Retiring At WrestleMania 33?
Could The Deadman's match with Roman Reigns be his last?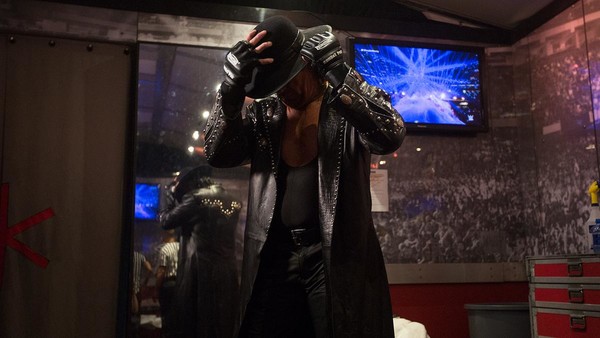 As has become an annual tradition during WrestleMania season, speculation is mounting that The Undertaker could announce his WWE retirement after wrestling Roman Reigns on April 2nd.
The rumour stems from a PW Insider Elite report stating that The Undertaker was walking around in a lot of pain ahead of his appearance on last week's Monday Night Raw. The Undertaker was also noticeably cumbersome and off the pace during the Royal Rumble, and having recently celebrated his 52nd birthday, his post-WrestleMania 33 status is now questionable.
It's easy to dismiss Undertaker retirement stories, as the Phenom has defied them every year since losing his Streak to Brock Lesnar at WrestleMania 30. Given his recent health issues, however, there might actually be something behind this story.
The Undertaker has been battling hip issues since last year, and underwent career-prolonging surgery in September (after which he was photographed using crutches in public). He reportedly needs to a full hip replacement to relieve all the pain in his body, but has been putting this off as it will end his career.
These are just rumours at the moment, however, and another age-defying WrestleMania performance could still be on the cards. Regardless, few would begurdge Taker's decision should he retire after Mania 33.