WWE Opened Raw In A Completely Different Way Last Night
A sign of things to come from Triple H as WWE head of creative?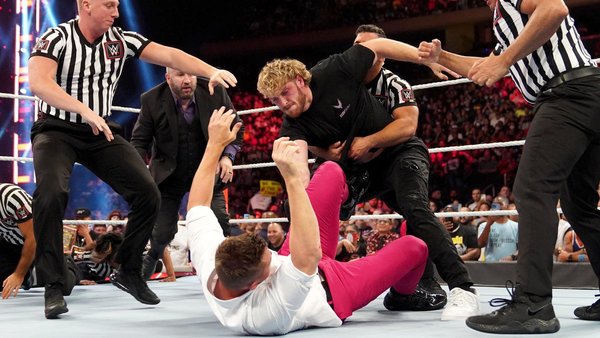 Last night's WWE Raw opened not with the customary 15-20 minute promo train, but a brawl-in-progress featuring SummerSlam 2022 opponents Logan Paul and The Miz.
It was an atypical start from a promotion that's usually so rigid in its formatting. Paul and Miz were already on the mat as the USA Network feed kicked in, taking lumps out of each other, with the announcers explaining that Logan had hit the ring and asked Miz to "come get me" before Raw started airing.
The duo were quickly separated by WWE officials, with WWE showing a clip of Miz answering Paul's challenge as the situation was cooling down. The Bloodline then hit the ring - and the promo train rolled into town.
Nonetheless, a different start for a mainline WWE show - and one that is already being interpreted as an encouraging sign for Triple H as WWE's head of creative.
The former NXT Executive Director assumed this role on Monday, taking the wheel following Vince McMahon's retirement as CEO and Chairman last Friday. Elsewhere, the show largely stuck to the same formulae as always, though it'll likely take longer before grander changes come into play anyway.
Create Content and Get Paid
---