WWE Owner Vince McMahon Does The ALS Ice Bucket Challenge
Vince McMahon follows Triple H's lead and dunks ice cold water over his head.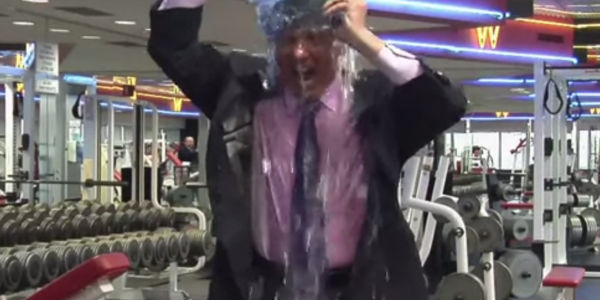 After being challenged by his son-in-law Triple H, Vince McMahon got into the charitable spirit by participating in the ALS Ice Bucket Challenge. Not only did WWE set up multiple camera angles for their Chairman to take part in the challenge, but he also wore a suit while doing it. McMahon said that anything Triple H can do he can do better and encouraged all WWE fans to donate to ALS research. McMahon challenged billionaire Donald Trump, Muppet character Kermit the Frog, and TV personality Maria Menounos to participate in the challenge. All three have appeared on WWE television in the past, with McMahon and Trump having a friendly rivalry over the years. https://www.youtube.com/watch?v=XMg3Na1Rl80 The challenge went viral throughout 2014 and was the idea of former Massachusetts resident Pete Frates, who has had ALS since 2012. ALS (Amyotrophic lateral sclerosis) is progressive neurodegenerative disease that impacts nerve cells in the brain and the spinal cord. Eventualy, the disease makes it difficult for sufferers to walk and talk. After being challenged by Pittsburgh Steelers quarterback Ben Roethlisberger, Triple H also challenged Stone Cold Steve Austin and Hulk Hogan. The ALS Association has received $7.6 million in donations compared to $1.4 million during same time period last year.
Create Content and Get Paid
---