WWE: How Paul Heyman's CM Punk "Pipebomb" On Raw Came About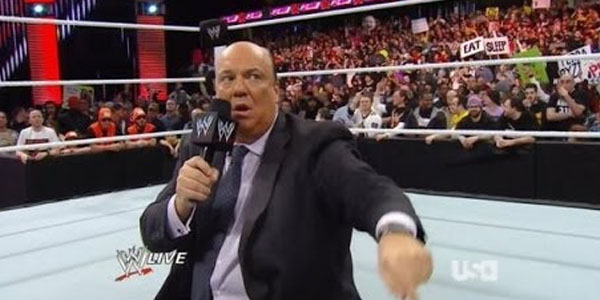 Last night on Raw, Paul Heyman began the show by addressing the CM Punk situation in front of a raucous Chicago crowd. Now details have emerged via PWInsider.com that backstage officials decided the best course of action was to confront the situation straight away in the hope of quieting the crowd for the rest of the show. As seen, this both did and didn't work. Fans were vocal in their support of the hometown star, but clearly didn't hijack the show like some predicted. Earlier, F4WOnline.com reported that Paul Heyman altered his promo a bit to add in some material he felt was relevant to both the Punk situation and the Lesnar/Taker feud. It's believed this was not going into business for himself, but that the former ECW owner slightly went off script. Jim Ross' latest blog also addresses the Punk situation:
"As Steve Austin said on my podcast, the Ross Report, which drops later today and officially on Wednesday, I'd still not rule out CM Punk's return to WWE in time for a WrestleMania match but my gut feeling is that ship is about to sail. Perhaps it already has."
It will be interesting to see if Punk is mentioned in future Raw shows before WrestleMania. The fact that this ongoing story was referred to live on air is testament to just how popular the former Ring of Honor star is. One thing is for sure, the voice of the wrestling community has been the big story leading into 30th anniversary of WrestleMania so far.