WWE Planning INSANE Stipulation For Rey Mysterio Vs. Seth Rollins?
An eye for an eye makes the luchador blind.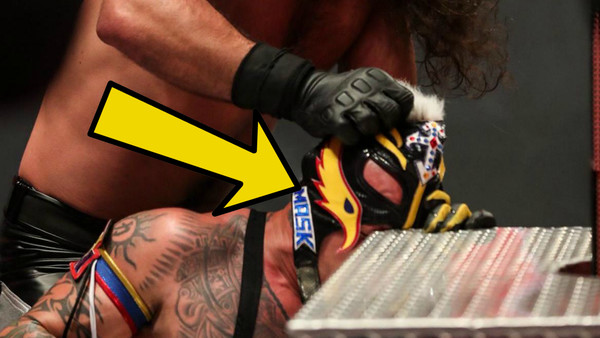 WWE was reportedly planning an absurd, grisly stipulation to cap the bitter feud between Seth Rollins and Rey Mysterio.
This is according to a new report from Dave Meltzer of the Wrestling Observer/Figure Four Online, who says that WWE wanted to make the bout an "eye for an eye match," meaning that a wrestler would have to take their opponent's eye out in order to win.
The victory conditions would presumably be something similar to Rollin's recent assault on Mysterio's peeper, when he thrust the wrestling legend's eyeball into the corner of the ring steps, not one of them going full Simon Phoenix and gouging one out, reducing WWE's PG product to full-on torture porn.
Nothing is confirmed yet, though Mysterio vs. Rollins is expected to go down at the upcoming Extreme Rules pay-per-view on 19 July. The match could be booked on tonight's episode of Raw.
Though Mysterio is currently working without a WWE contract, he and Rollins are currently embroiled in one of the company's most bitter feuds, with Mysterio's son, Dominik, playing as big a role as he did in last year's programme with Brock Lesnar. Expect further developments tonight.
Create Content and Get Paid
---