WWE Planning WORLD DOMINATION With New Plans?
What you gonna do when Triple H and WWE global YOUR localization?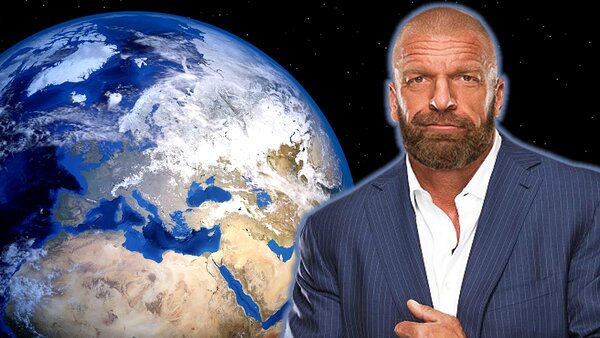 WWE has filed a trademark application for an old Paul 'Triple H' Levesque phrase that once hinted at global domination.
The market-leading wrestling promotion moved to trademark 'Global Localization' with the United States Patent & Trademark Office on 21 September. WWE seeks it for the following purposes:
IC 041. US 100 101 107. G & S: Entertainment services, namely, a show about professional wrestling; entertainment services, namely, the production and exhibition of professional wrestling events rendered live and through broadcast media including television and radio, and via the internet or commercial online service; providing wrestling news and information via a global computer network; providing information in the fields of sports and entertainment via an online community portal; providing a website in the field of sports entertainment; fan club services, namely, organizing and staging events with wrestling fan club members; providing online newsletters in the field of sports entertainment; online journals, namely, blogs in the fields of sports entertainment; Entertainment services in the nature of development and creation of multimedia entertainment content
Triple H first coined 'Global Localization' in 2018, doing so while referencing WWE's plans to expand its NXT feeder system internationally.
This is yet to happen for various reasons. WWE has since shuttered its NXT UK operations and is yet to make significant in-roads into the long-rumoured Japanese and Mexican markets. Recently, Dave Meltzer reported WWE is targeting 2024 for an intercontinental expansion with NXT Europe, though this is yet to come to fruition.