WWE Quiz: How Much Do You Remember About Evolution?
Evolution is a quiz-to-me!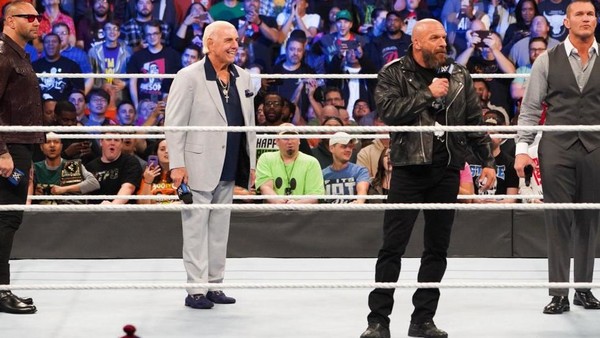 Evolution reunited on SmackDown 1000 last night and it was great to see The Game, The Nature Boy, The Viper and The Animal back together in the ring again.
We were taken back to a time in the mid-noughties when these four men basically ran the show. After memorably holding all the gold at the close of Armageddon 2003, the past, present and future of the business dominated proceedings on Monday Night RAW for nearly two years.
Throughout that time the infamous stable had some amazing moments; from unmasking Kane, to the unforgettable turn on Randy Orton following SummerSlam, and Batista's thumbs down to remaining members ahead of WrestleMania 21.
Just how much do you remember about Evolution though? Can you recall who they beat up before cutting the infamous "Evolution has just passed you by" promo? At which pay-per-view did the 'Legend Killer' Randy Orton lose his Intercontinental Championship? What number did Batista enter the 2005 Royal Rumble at, before going on to win and signal the end for the group?!
Test yourself against our quiz and find out...
Answers at the end!
1. Ric Flair First Interfered In A Triple H Match At Which PPV?