WWE Raw Announcer "Having More Fun" Post-Vince McMahon
One of WWE Raw's commentary team is having a blast now that Triple H is in charge.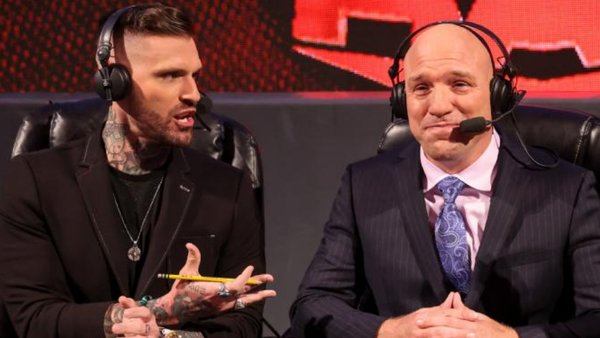 Corey Graves has been "having more fun" behind the commentary desk on WWE Raw lately.
The announcer told listeners on 'After The Bell' that he's enjoying Triple H's approach to "cliffhanger" teases and endings on the company flagship. Graves acknowledged that "not everything needs to be a surprise", but he loves the thought that WWE's product can "keep people guessing".
That also makes his job a hoot, because he "loved being surprised" as a fan himself.
WWE's commentary hasn't changed dramatically overnight since Vince McMahon retired, but there is a looser feel behind each desk on Raw and SmackDown. It's definitely noticeable, and it's great to hear that guys like Corey are relishing the chance to just be themselves.
In an interesting moment, Graves also said that he prefers not knowing every little detail that's coming his way on Mondays. In fact, he prefers "not to have any clue as to what's happening on the show". That means he can "play the role of a super knowledgeable wrestling fan rather than a snarky bad guy announcer".
It sounds like McMahon preferred Graves to lean on the latter.