WWE Raw Women's Championship Match Set For 2 January Raw
Bliss and Belair will do battle in two weeks for Bianca's title.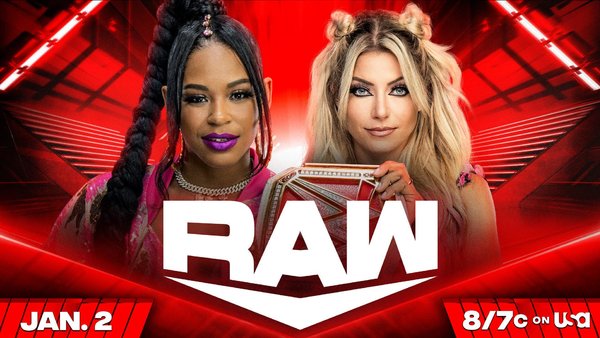 Last week, we learned that Alexa Bliss will be Bianca Belair's next challenger for the Raw Women's Championship. Monday night, we found out when that title match will take place.
The first Raw of 2023 will feature Bliss and Belair battling for the belt in Bianca's home state of Tennessee. The match will be Alexa's first singles title match since losing to Charlotte Flair at Extreme Rules 2021. After that, Bliss disappeared for four months.
Bliss and Belair have been teaming together with Asuka to battle Damage CTRL, but Alexa has started showing signs of coming back under Bray Wyatt's spell. His symbol has appeared onscreen when she's around, leading to Bliss reverting to her spooky character from 2020-21. Last week, she briefly hooked Bianca in a Sister Abigail before letting go.
Monday, Bliss and Belair had a sit-down interview where Alexa explained how her abduction, brainwashing, abandonment and therapy left her a shell of her former self, but she didn't explain the recent hijinks. Bianca said she couldn't trust her former partner, which proved to be prescient.
As Belair turned her back to leave, Wyatt's symbol flashed on the monitor behind them, and Bliss smashed a vase over the champ's head, leaving her laid out.
We'll see how this shakes out in their title match on the 2 January episode of Raw.