WWE Reforms Old WCW Faction On SmackDown
WrestleMania 39's go-home SmackDown included this WWE nod to the past.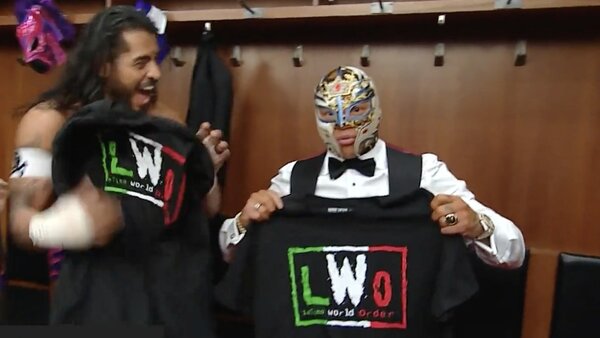 WWE decided to officially reform the LWO on this week's 'go home' episode of SmackDown before the weekend's WrestleMania 39 festivities.
Rey Mysterio appeared in a backstage segment with members of Legado del Fantasma and thanked the group for helping him fend off Judgment Day in recent weeks. Then, the soon-to-be Hall Of Famer whipped out some LWO t-shirts and handed them to Santos Escobar and others.
It appears this is WWE's plan post-'Mania - the revamped Latino World Order will rally behind Rey and continue the fight with JD on shows afterwards. That suggests Mysterio's business with his son Dominik won't conclude in Hollywood.
The LWO was introduced by WCW chiefs late-1998 as an offshoot of the wildly popular nWo faction. Members included Rey, Eddie Guerrero, Juventus Guerrera and others, but would only really last a few months before being disbanded by on-screen President Ric Flair.
Approx 25 years later, it's back on TV.
WWE's official YouTube account even said that Rey had "formed the new LWO" with Escobar, Zelina Vega and pals, so it looks like this is one idea that's here to stay.