WWE Reveals Stone Cold's Next 'Broken Skull Sessions' Guest
John Cena is out, and this WWE star is in! Here's who Steve Austin is chatting to next.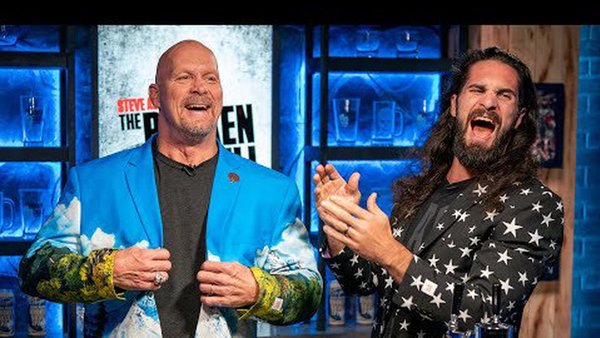 It's Seth 'Freakin' Rollins!
John Cena's planned appearance on Steve Austin's 'Broken Skull Sessions' show has been shelved, and SmackDown's sharp-suit wearing heel will now replace him on 'Stone Cold's WWE Network/Peacock series. Nobody really knows for sure why Cena is out quite yet, but Rollins should be an engaging guest regardless.
Both Seth and Steve certainly appeared to be having some fun in preview clips posted on WWE's official Twitter account; the teaser showed Rollins presenting Austin with his own "custom-made" suit jacket, and it's clear that both guys have some chemistry together.
That's a big thing for ol' 'Stone Cold'.
His best interviews come when guests are either old buddies (like The Undertaker and Kevin Nash) or bring something bubbly to the party. Seth has the personality to make this 'Session' a winner, basically.
WWE announced that the next 'Broken Skull Sessions' episode will take place right after Extreme Rules on Sunday 26 September. Typically, the company tends to put Austin's shows live before that (at around 10am EST/3pm BST) on the day.
Hearing Austin grill Rollins on everything from NXT and The Shield to Becky Lynch and beyond should be fun.
Create Content and Get Paid
---