WWE Royal Rumble 2021: 10 Nightmares That Could Happen
Could Bray Wyatt's 'Fiend' burn it all down at WWE's 2021 Royal Rumble?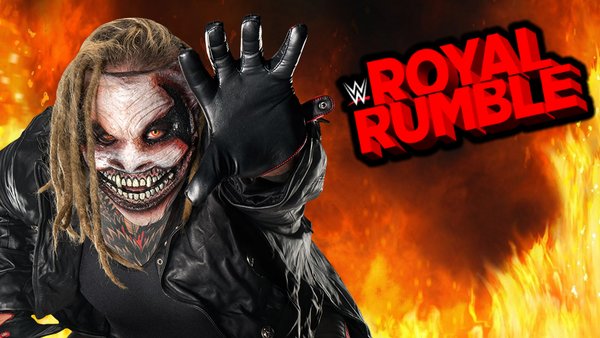 There's an argument to be made that 2020 was a near year-long nightmare.
If so, then it was one WWE handled with remarkable coolness at times. Drew McIntyre's WWE Title push, Edge's first singles match since 2011, Roman Reigns' amazing heel turn and Bayley's split from Sasha Banks all happened in the 'post-crowd' era, and they remain banner moments.
The company will need that same amount of composure as they begin the march towards 'Mania 37 at Sunday's Royal Rumble pay-per-view. This 2021 kick off will either be a supercard winner to rival last January's epic, or it'll be a waking nightmare that leaves everyone doubting whether or not a second 'Road To WrestleMania' without fans can really work.
Hold on tight, because there's a very-real possibility that some big things could go wrong this weekend. How wrong? Well, how about a non-finish in one of the biggest matches of the year. Or, WWE could book one of the most unwanted title changes in recent memory. They might also make a mockery of the 30-woman brawl all over again.
Here's everything that should make your blood run cold...
10. WWE Tack On Some "Bonus" Matches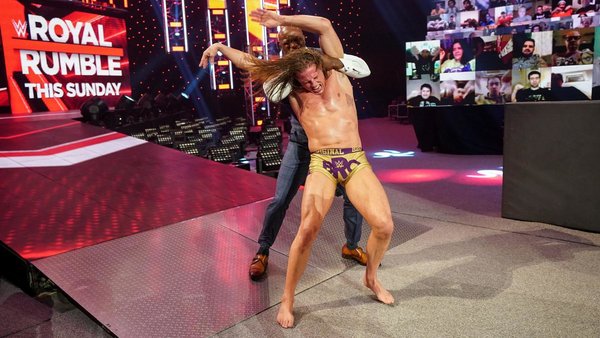 Currently, Sunday's card only has five matches - that seems ominous.
Yes, two of those are potentially hour-long Rumbles, but it wouldn't be out-of-character for WWE to tack on another couple of bouts to lengthen the show. Riddle challenging Bobby Lashley for the United States Title, Sami Zayn gunning for Big E's IC belt and maybe even a Tag Title match all seem possible.
Sasha Banks vs. Carmella for the SmackDown Women's Title could also be added last-minute too. All of these matches have one thing in common: WWE don't really need them here. If anything, they should bump the Women's Tag Title match to the pre-show and leave the main card at just four matches.
The pay-per-view will easily be three hours anyway; each Rumble could be 60 minutes, Roman Reigns vs. Kevin Owens could be 30+ and the hype/entrances for Goldberg vs. Drew McIntyre alone will eat up a good 15 before the bell rings.
Other matches would be unnecessary.