WWE Royal Rumble 2023 Entrant Says Her WWE Return Was "Rushed"
WWE officials didn't give this wrestler a lot of notice before the 2023 Royal Rumble.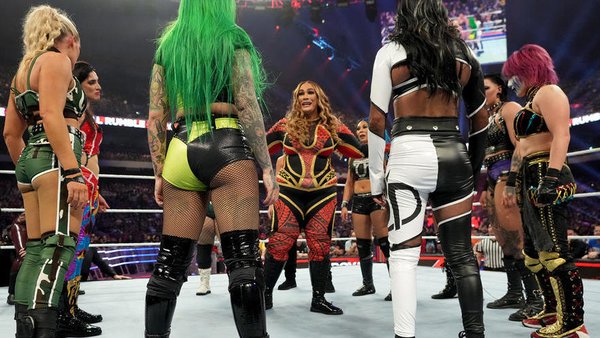 Nia Jax has revealed that she wasn't given advance notice about her spot in the 2023 women's Royal Rumble match.
The WWE returnee revealed, via a Highspots virtual signing on Facebook, that she was "rushed" when getting some new ring gear made for the pay-per-view ahead of time. Why? Well, company officials didn't really give her much of a heads up that they planned to book Nia in the match at all.
Fans wanted to know if Jax knew she was Rumble-bound a month or so before appearing. Some also asked if she'd been aware of a comeback when chortling at questions about a long-term return on social media before the supershow.
In a word, "no" - Nia wasn't told a month or so out that she was wanted for the Rumble, and she wasn't kidding when she previously told fans there were zero plans for an in-ring return. That was all legit, but then WWE came calling and she decided to go for it.
Jax entered as #30 in the Rumble, but only worked less than two minutes before being eliminated by pretty much everyone else left in the match.
Create Content and Get Paid
---