WWE Slams AEW For "Gory Self-Mutilation" Content
"We don't believe that type of dangerous and brutal display is appealing."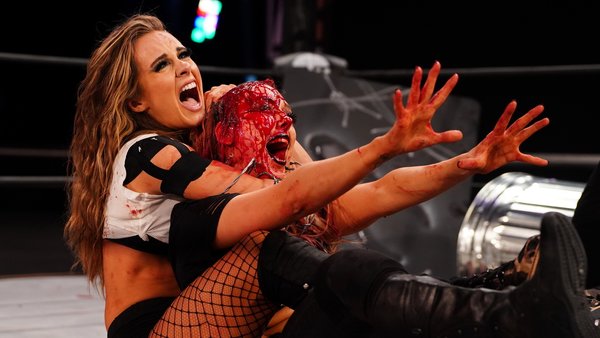 With the Toronto Star having put a piece together to highlight the competition between WWE and AEW, Vince McMahon's sports entertainment juggernaut has used this report to take a shot at AEW for "gory self-mutilation".
This report stated how SmackDown on Sportsnet360 in Canada averaged 155,000 viewers across 2021, which was 49% higher than the 104,000 viewers averaged by AEW Dynamite on TSN in that same period. While that standard viewership was an easy win for WWE, the 25-54 demographic numbers were a little closer.
In that demo, SmackDown had 71,000 viewers in comparison to Dynamite's 62,000 viewers. The Toronto Star put this tighter split here down to how AEW content is edgier with its violence and language.
For this article, WWE provided a statement that took a dig at the recent Anna Jay & Tay Conti vs. The Bunny & Penelope Ford match from the New Year's Smash episode of AEW Rampage.
As WWE put it:
"If you look at the gory self-mutilation that bloodied several women in the December 31 event on TNT, it quickly becomes clear that these are very different businesses. We had an edgier product in the 'Attitude' era, and in a 2022 world we don't believe that type of dangerous and brutal display is appealing to network partners, sponsors, venues, children, or the general public as a whole."
On the AEW side of things, Tony Khan did not comment on WWE's statement, but he did talk to the Star to state how he planned to make AEW the "best wrestling show on television" and that, yes, he expected to make AEW competitive with WWE when he decided to start the promotion.
Create Content and Get Paid
---