WWE Strips Carmella Of The Briefcase & Books A Women's Money In The Bank Rematch
The five competitors will run it back next week.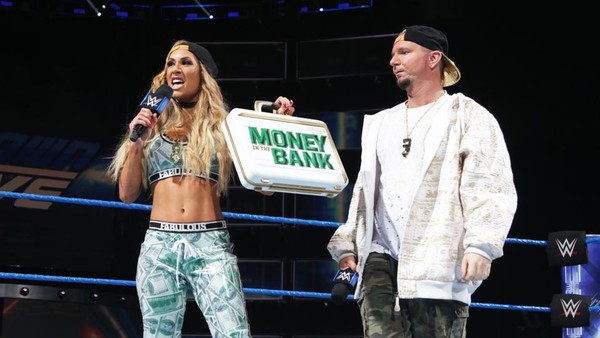 James Ellsworth's involvement in the finish of the first-ever women's Money in the Bank ladder match drew the ire of not only wrestling fans, but the onscreen authority figures in charge of SmackDown Live. Daniel Bryan was particularly perturbed and vowed to right the wrongs caused by the controversial result.
Bryan made his long-awaited return to the show - after a brief hiatus following the birth of he and Brie's daughter, Birdie - and addressing the bout was his primary focus. Carmella delivered her side of the story in an outstanding promo making it clear she has no interest in "girl power", "history" or anything other than her guaranteed championship match.
SmackDown GM Bryan disagreed, and instead opted to nullify the results of the bout entirely. Not only has Carmella been stripped and is no longer in possession of the briefcase, but Daniel booked a Money in the Bank ladder rematch featuring the same five competitors for next week's show.
One can't help but wonder if this was the plan all along or if WWE is reacting to the deluge of negative feedback received regarding the ending. The company obviously didn't expect the type of backlash the finish would garner, so it's possible this decision was booked as a direct response to appease those both on and off the roster who were angered by this historic women's first being "won" by a man.
Then again we could all be getting worked and this was the idea from the get go. That is the goal, after all.
What do you think of the decision to run it back? Drop your opinion in the comments.
Create Content and Get Paid
---